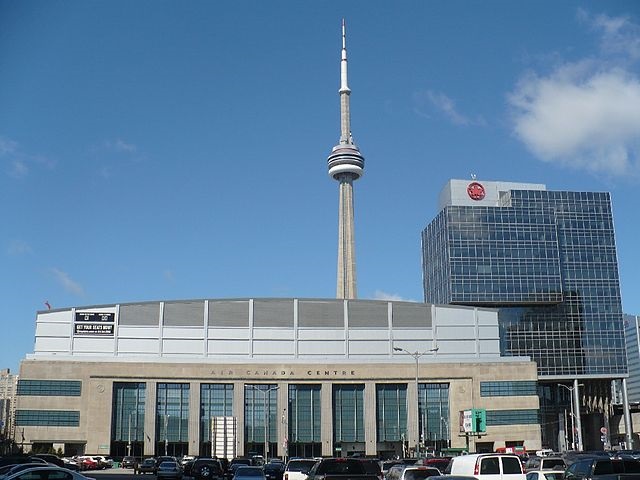 TORONTO – The Air Canada Centre will be getting a new name along with an additional $2.50 fee for any non-Toronto Maple Leaf fans who wish to attend games.
Scotiabank says that the fee is a necessary step in providing customers outside its fan base with quality entertainment while gouging them.
"There is an associated cost with printing and seating customers who do not support our sponsored team," explained Scotiabank CEO Brian J. Porter. "If attendees are not wearing a Wendel Clark jersey or covered in the Leafs logo, they will be charged $2.50 to enter the Scotiabank Centre and another to leave the Scotiabank Centre."
In addition to the new non-fan entrance and exit fees, Scotiabank has also introduced a levy on the arena's washroom experience as the bank had previously been providing free access to toilets, urinals, sinks, and hand soap.
"Providing these basic needs does come at a cost that our customers will need to share," added Porter. "$2.00 for a number one, $3.50 for a number two."
Scotiabank is also offering Leaf fans a new Master Platinum Usher Service, which offers Leafs fans a point by the hand of an usher to the general direction of your seats for a reasonable price of $5.00, $7.50 for non-Leaf fans. With enough Usher Service points, fans can cash them in for a free, small non-alcoholic beverage.
Employees of the Scotiabank Centre will be trained and authorized to process new credit cards and line of credit increases for customers wishing to purchase food and beverages from the concession stands. Attendees may be called later by a subsidiary of Scotiabank to discuss credit card protection.
Some Toronto fans were at first sceptical with the new name and sponsor, but said they'll get used to calling it the Scotiabank Centre.
"Yeah, it doesn't sounds all that right at first," said Brad Schomer. "But then again, [the building's name] will change from the company that loses my luggage to the company that loses my money."
With files from Alex Huntley and Luke Gordon Field