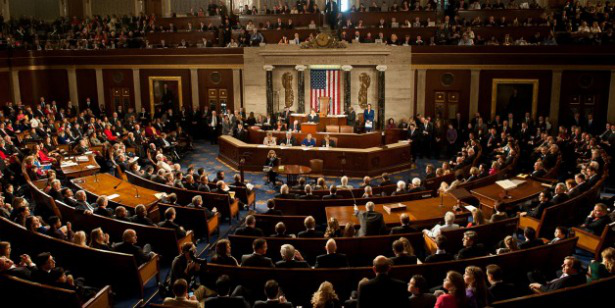 WASHINGTON D.C. — GOP lawmakers called for a short break in Congressional proceedings to go outside and play their favourite game: "Good Guys with guns vs Bad Guys with guns".
"The only thing that stops a bad guy with a gun is a good guy with a gun. So bang bang! I got you!" shouted South Carolina Rep. Jeff Duncan to fellow representative John Carter, of Texas. When Carter insisted Duncan's "finger guns" had clearly missed him, the 51-year-old stood firm. "Nuh-uh I didn't miss you, because I'm a good guy and good guys never miss! Pew pew!"
Upon calling the recess, Republican officials scampered outside to the lawn of the US Capitol and quickly began choosing teams. Congresswoman Barbara Comstock (R-VA) was heard shouting "Not it", in an effort to block being relegated to the "Bad Guy With A Gun" side.
The Reps' play session was heavy on imagination and notably light on bystanders being caught in the crossfire. "Good guys with guns never ever hit bystanders! I saw it on TV," insisted Rep. Will Hurd (R-TX). When Duncan insisted that Hurd had accidentally pretend-shot a civilian, Hurd forcefully insisted, "No bystander shootings times infinity!" Hurd's resolution then passed 234 to 201, along strict party lines.
The imaginary shootout was briefly interrupted when Colorado representative Mike Coffman declared "shields!" after being pretend shot by Iowa's Chuck Grassley. This led to Grassley insisting that Coffman's shields were no match for his "bazooka with a rifle on it". The two legislators eventually had to be separated following a brief slap fight.
The Republican Representatives were particularly excited to use a playset of toy guns, sponsored by the National Rifle Association. "Look how realistic these toy guns look," exclaimed House Speaker Paul Ryan (R-WI). "Thanks Uncle Wayne LaPierre!"
Back inside the US Capitol, Congressional Democrats were busy holding their fifth caucus vote over whether to accept the GOP's invitation to join imaginary game, and play as hostages.
At press time, House Republicans had grown tired and were unsuccessfully asking female staffers to join in a game of "Doctor, But With Pre-Existing Conditions".