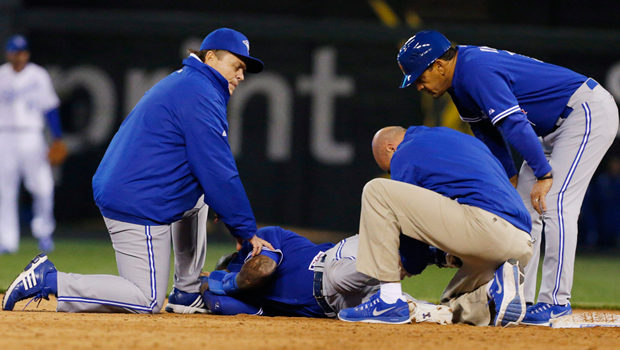 TORONTO – Team Physician Dr. Jason Smith has warned the remaining healthy players on the Toronto Blue Jays not to try any more 'baseball stuff', as the risk of injury is too great.
"There have been a lot of injuries this year, and the one thing they all have in common is that they resulted from doing throwing, catching, and hitting type things," said Dr. Smith. "So I've warned everyone else on the team to not do anything like that."
"I'm just so goddamn tired," explained Dr. Smith, who was taking a much needed break in his office. "So far this year I've had to try and rehabilitate Josh Donaldson, Troy Tulowitski, J.A. Happ, Aaron Sanchez, Francisco Liriano, Bo Schultz, Glenn Sparkman, Russell Martin, Kendrys Morales, Steve Pearce and Darrell Ceciliani-"
"And Anthony Alford" called Blue Jays outfielder Anthony Alford from the waiting room.
"Oh Jesus Christ," said Dr. Smith before collecting himself. "Just please, please, no more baseball stuff."
"I agree with Dr. Smith one hundred percent," said manager John Gibbons. "If they want to play other sports like soccer or football out there that's fine, but guys like Jose Bautista and Marco Estrada are simply too valuable to this team to let them risk their health by playing baseball."
At an emergency team workout at the Rogers Centre, there was mass confusion as the coaches and players tried to develop a strategy for beating the Texas Rangers this weekend without throwing any baseballs or swinging any bats.
"I've been trying this new pitch where I drop the ball on the mound and kind of kick it towards the plate," said Marcus Stroman, one of the Jay's best remaining pitchers. "It's a tough pitch to hit but it's hard to get over for a strike."
Backup catcher Luke Maile meanwhile was developing a technique where he would watch the ball go past him and hope that it would naturally bounce off the backstop into his hand.
The no-baseball-stuff initiative is part of a multi-pronged strategy aimed at keeping the players injury-free, a strategy that includes innovative new baseball uniforms made entirely of bubble wrap. The grounds crew has also been hard at work replacing the Rogers Centre artificial turf with thousands of soft soft pillows.
At press time, clubhouse attendants were putting up signs in the Blue Jay clubhouse saying 'NO MORE DOING BASEBALL STUFF", covering up last week's signs saying "NO MORE HOMOPHOBIC SLURS"