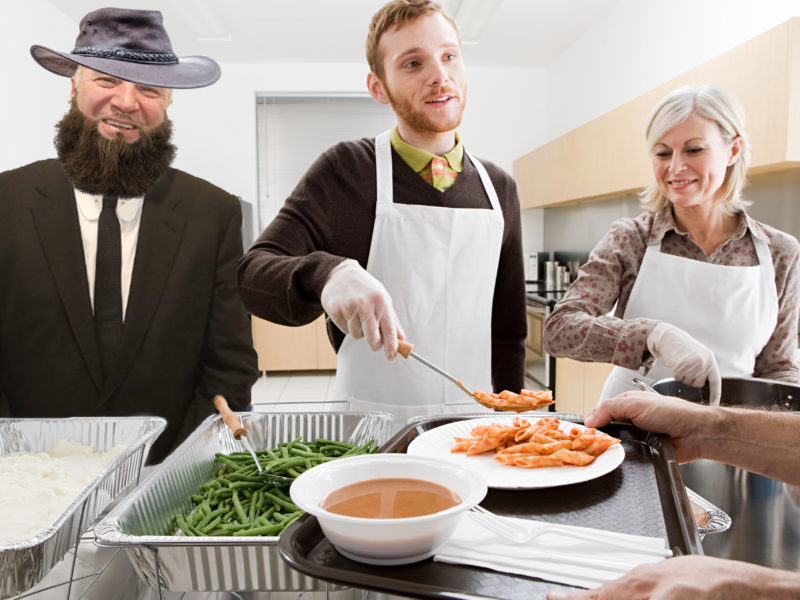 RED DEER – Sources have confirmed that businessman and Conservative leadership frontrunner Kevin O'Leary donned a disguise so that he could serve underprivileged people without calling attention to himself.
"Look, this is something I'd prefer to keep quiet," a chagrined O'Leary told reporters as he removed his low cowboy hat and fake beard. "My goal was to make myself useful to those in need without creating a big fuss."
"Making a positive difference in other people's lives—that's ultimately what makes my life worth living, recognition or not," he added as he gently guided an elderly lady to a seat near a space heater.
Reports confirmed that despite his busy schedule O'Leary has in fact been volunteering his time at the Stone Hill Church's soup kitchen for months now, in addition to coaching basketball for at-risk youth once a week.
"Sure I also donate millions to charity and give struggling businesses interest free loans, but my work here as Eduardo, the friendly volunteer, is what I'm proudest of."
O'Leary then gave a broad smile as he wiped a tear away from his cheek and waved a friendly goodbye to an elderly veteran making his way to the door.
Despite O'Leary's best efforts, several of his fellow volunteers saw through his disguise.
"We kind of figured out who it was a couple weeks in," said Stone Hill deacon Sarah Gill after O'Leary excused himself to help soothe a tired mother's crying baby. "I'd thought something about him looked familiar. One day I told him his apron string was dragging in the soup, and he just said "Dragon? Not me!" and that's when it clicked."
At press time, reports indicate that O'Leary had to sit out a leadership strategy meeting to fill in for a Red Deer meals-on-wheels driver who had gotten sick.