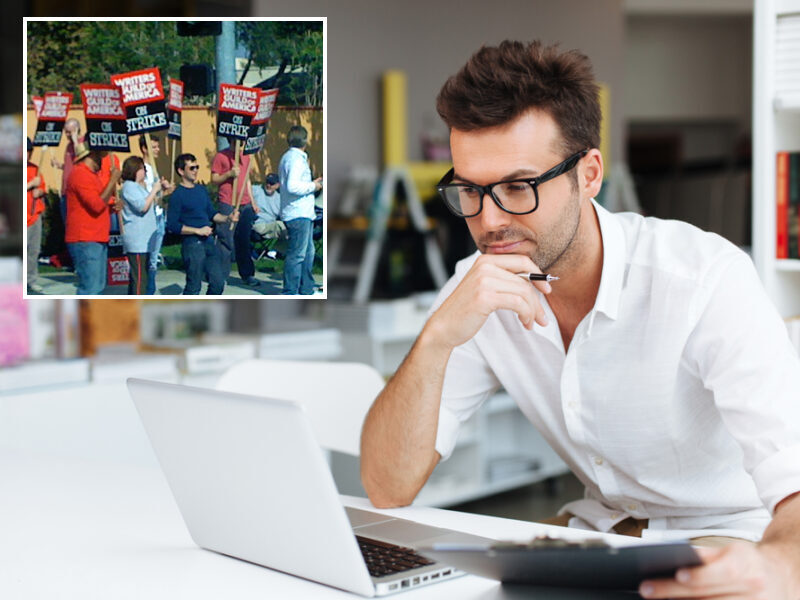 TORONTO – Local television writer Sean Tudyk recently assured a concerned public that the Writers Guild of America strike wasn't negatively impacting him because, as a Canadian screenwriter, it has no bearing on his current state of joblessness.
Tudyk explained that while the current work interruption, between the WGA and the Alliance of Motion Picture and Television Producers (AMPTP), has left entertainment-industry workers south of the border unemployed for more than two weeks, such a circumstance would actually be "good news" to him.
"If I wasn't working for a fortnight because of a strike, that would mean that I had a job as recently as two weeks ago. That kind of employment-market would be the Ryerson-graduate equivalent of the roaring twenties!"
Tudyk went on to wave away any suggestion that the WGA action might trigger a domino effect that could further hinder his ability to find gainful employment. "Right now the AMPTP's argument is they don't have the funds necessary to accommodate the salary expectations of the writers on all of their programs. In Canada we don't have to worry about that. The producers can easily cover salary expectations, it's just that they don't have any programs".
"Honestly, folks are getting overly worried. With all of these big productions shutting down, I had plenty of people coming up to me wondering if I'd be okay. I had to explain to them that just because something films here it doesn't mean it actually employs anyone from here, in any way shape or form."
Tudyk continued "I think people got confused when they thought they saw me picketing outside of the CBC building. But all I wrote on those signs were some suggestions for questions on Family Feud with Gerry Dee. It was sort of a 'Say Anything' kind of situation".
Queried as to whether he had any thoughts on the current situation in the United States, Mr. Tudyk admitted to feeling conflicted. "On the one hand they have some very solid and completely understandable concerns about where their industry could be headed, what with their fear of mini-rooms and two-person writing teams. But, from a patriotic perspective, I'm a little offended that they're concerned that they could end up just Canada. I mean, 'no AI'? Computers have been generating episodes of Murdoch Mysteries for 3 years!"
Asked if he thinks he'll ever find employment, Tudyk was optimistic "Well, it's not like the glory years when CTV was churning out episodes of Dan for Mayor and The Listener but there's bound to be something as long as Brent Butt still breathes and, even if he doesn't, as we say in The Biz, 'people might die, but Heartland never will'".
Until then, Mr. Tudyk says he's making good progress in his quest to platinum God of War, while keeping his fingers crossed that the industry's comic book craze will find its way north of the 49th parallel, and he'll finally be able gift the nation with his gritty take on Captain Canuck.