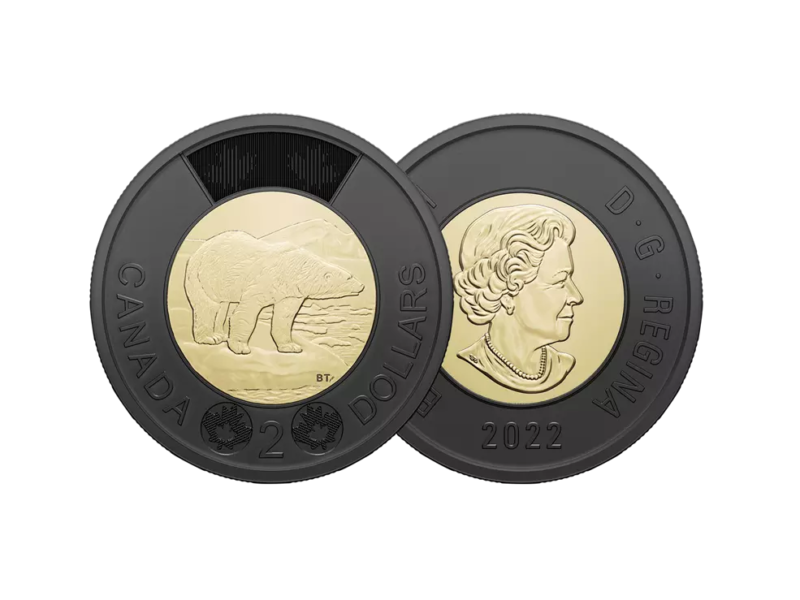 OTTAWA – The Royal Canadian Mint has announced a black ringed two-dollar coin featuring the 96-year-old Queen on one side, and the polar bear that killed and devoured her on the other.
"As many Canadians know, Her Majesty took a yearly pilgrimage to the North Pole to hunt a polar bear and eat its heart for strength," a spokesman for the Mint said. "But, well, time makes fools of us all."
The black ring is meant to invoke the image of a mourning armband, although the spokesman said the toonie is open to interpretation.
"The intention of this coin is to bring the nation together. Monarchists can honour Elizabeth II's service to the Commonwealth, while those who want to see the monarchy abolished can simply flip the coin over and admire the creature that finally brought the old bag down."
As an additional feature, exposing the coin to a blacklight will reveal a red blood splatter symbolic of the titanic struggle between Queen and beast.
"In tribute to the wide variety of atrocities committed in the name of the throne, each coin is uniquely violent," the spokesman said. "And yes, the grain on the tiny patches of fur are directly taken from the many bears Her Majesty single-handedly slew in epic battle over the decades."
Canadian numismatists are praising the design, with many calling it the Mint's best product since the 1981 quarter that paid tribute to Marshall McLuhan's caribou goring.
"This is going to be a treasured heirloom," one coin collector said. "Plus, any delay in getting Charles on our coins is a good thing."