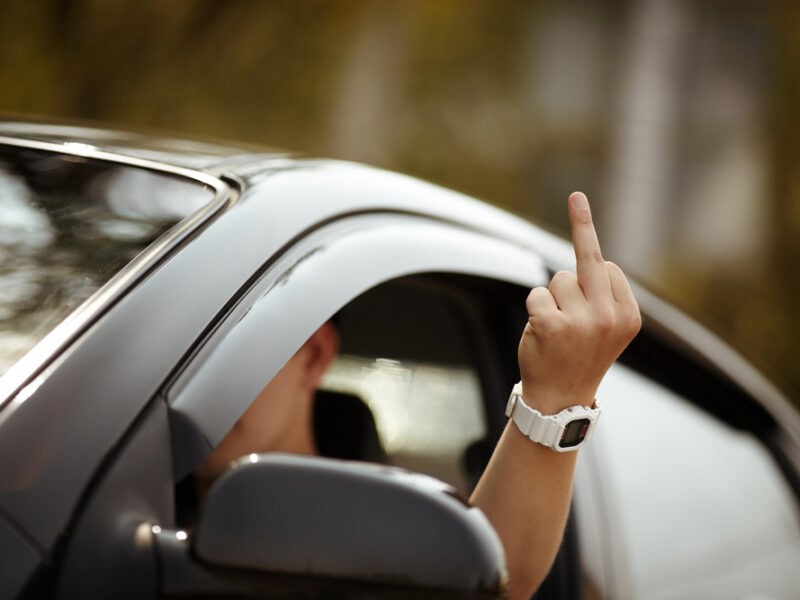 BARRIE – In the wake of a population boom, the Province of Ontario is proud to announce that the middle finger has been tapped as the "Official Bird" of their roadways. 
"For years, you could make it all the way from the 404 to the DVP without one sighting", said Aria Asadi, wildlife expert. "But now, between a lack of affordable housing that forces residents to commute, plus endless Ford-backed construction, you can see these birds flipping left, right, and centre… usually where someone has failed to indicate whether they were going left or right".  
From the gridlock on the 401 to the gridlock on the QEW, motorists should keep their eyes open for this remarkable species. "These birds often present in pairs", explained Asadi. "With first elongating its delicate, slender, neck while the second unleashes a majestic 'HONK' at drivers who go 60 in a school zone". 
Birders who want to snap a photo of the animal should keep their ears open for the species' distinct calls. All across the great Ontarian roadways, drivers can expect to hear captivating birdsong like "Fuck you", "Fuck YOU", and "Ah, go fuck yourself, bud!".
"We thought we'd go hours without seeing one," said Larry Green, a birder who drove up from New York. "But we didn't even hit Burlington before a speeding cab cut-off an 18-wheeler, leading to a spectacular rush hour pile-up. Within seconds, we were set upon by a whole flock!"
Experts warn that birdwatchers should hurry if they want to capture these creatures in action. "Despite being a flightless bird, they do migrate", continued Asadi, "Every December, we'll see plumes on display as entire families get in formation and inch their way to Pearson Airport".
"And, if they're lucky, birders may even witness a remarkable mating ritual where two angry fingers meet on the side of Highway 17 to create a rarely-seen Class C Misdemeanour."
The province also announced future plans to turn all construction zones, the species' favoured nesting grounds, into protected habitats. "Effective early next week, all work in these areas will cease", shared a Ford government rep. "By leaving half-finished pockets of ambiguous signage and detours, we will ensure the success of this species for generations to come".
In other news, the provincial government has announced plans to bulldoze a strip of the Greenbelt to make room for 93 more Circle Ks.