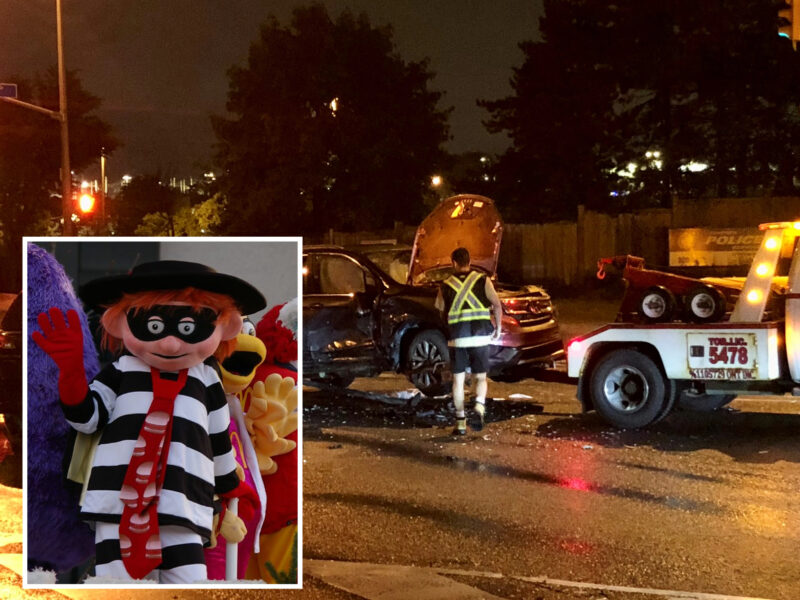 MCDONALDLAND – A citywide manhunt has begun for the Hamburglar after his petty criminal streak escalated to include several counts of vehicular hamslaughter.
"We do what we can to fight recidivism and escalation within the system," said Officer Big Mac. "Unfortunately, no one could have predicted that this perp would steal Ronald McDonald's McSplorer, striking and killing Ronald's dog Sundae in the process."
The Hamburglar then hopped a curb and drove the enormous stolen clown shoe through the town's hamburger patch, knocking over several old-growth apple pie trees in the process. In the chaos, three of the town's six remaining talking McNuggets were crushed to death in a mess of pink slime and sweet 'n' sour sauce.
"Someone has to stop him this time," A surviving maimed McNugget commented. "Look at me! Look at my shape! I used to be a boot. Now… Now I'm… a ball."
It's believed that the Hamburglar's target was Uncle O'Grimacey's celebration of life, held in the middle of the town's curliest ball pit slide just this afternoon. He died last week, at the age of 4,000, after one of his daily shamrock shakes was found to contain traces of a multivitamin. Foul play is suspected.
But before he could terrorize the funeral, the Hamburglar's plans were hambungled by bystanders enjoying a picnic under the old abandoned N64 kiosk.
"We were, of course, hooking up, because we are lovers," Birdie said, holding hands with the Mac Tonight Moon. "When Ronald's car came screaming out of nowhere. It's obvious something was wrong."
Birdie was able to flag the car down, distracting The Hamburglar while Mac Tonight used his magnificent chin to slash two tires. The couple attempted to restrain the perpetrator, but he fled on foot through the drive thru. The Hamburglar has not been seen since, though his known accomplices, the Fry Kids, have been detained for questioning and brutal torture if necessary as dictated by the McGeneva Cheesventions.
Mayor McCheese has released several statements in Maze, Word Search, and Connect the Dots format. McDonaldland's finest cryptologists are decoding them now.