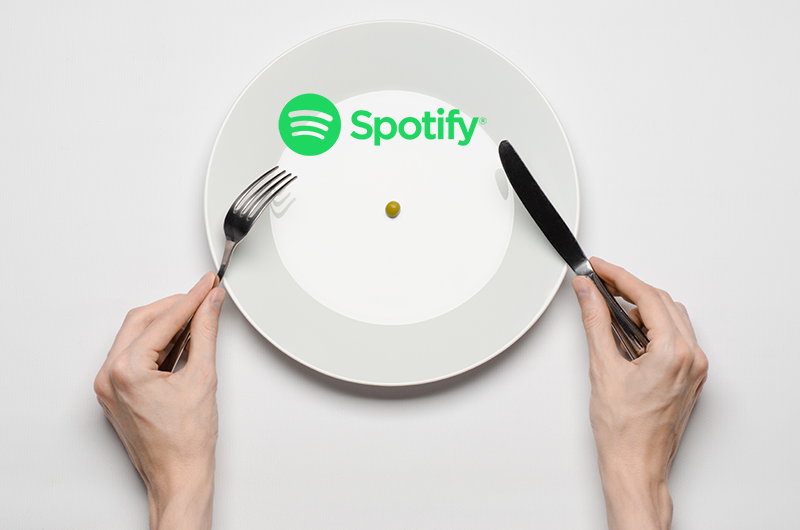 STOCKHOLM — Spotify founder and CEO Daniel Ek called a press conference today to announce a new feature of the music streaming site's premium subscription tier, namely the option for users to remove food from the stomachs of the musicians they love.
"From day one," Ek said, "Spotify has led the charge to transform the music industry. Musicians from past generations sold physical albums and became millionaires. But thanks to us, musicians born into Gen X and after can barely even afford to feed themselves from their work. And now with Spotify Premium, you can both have their songs and any food they might have found." 
"The precise mechanisms of how this works are complicated and proprietary," Ek explained, "but as soon as word got out, every other streaming service has been hard at work figuring out ways to lessen if not altogether delete the joy from musicians' lives." 
Representatives from Google Play confirmed their service will soon offer users the ability to turn musicians' treasured childhood toys into little piles of sand. While Apple Music announced they're working on a technology to syphon out musicians' blood while they sleep. Pandora has also put out a release stating they're perfecting an option for users to remove musicians' ability to dream for only $7.99/month.
Amanda Palmer, an outspoken critic of Spotify, responded to the announcement by composing a song cycle criticising Spotify's relentless greed. Unfortunately while live-streaming its debut, Palmer fainted onto her piano from sudden malnutrition and scurvy.
Despite the controversy, Ek dismissed the pushback from Palmer and other rapidly thinning musicians as "pointless Luddite-ism." He then announced Spotify's immediate quadrupling of their $200 million contract with podcaster Joe Rogan.