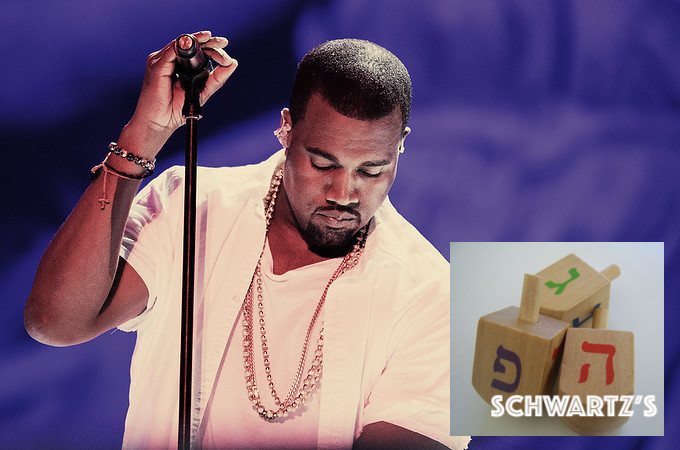 LOS ANGELES – In another stunning blow to the merchandising empire of music legend Kanye West, the hip-hop artist has now lost his lucrative deal with Schwartz's Kosher Dreidels.
"We've been taking a bit of a wait and see approach with Mr. West," reported Zev Fishbaum, CEO of SKD, "but after Adidas, The Gap, Balenciaga, Nike, Oakley, CAA, Instagram, and JP Morgan Chase all cut ties with him, we began to suspect that maybe the winds were changing a bit."
"This weekend with Elon Musk reinstating Kanye on Twitter, and him immediately tweeting 'Shalom', we realized he was maybe putting a bit too much strain on our company's longstanding antisemitism policy," Fishbaum noted. 
Schwartz's Kosher Dreidels, previously one of the pillars of West's sponsorship conglomerate, held multiple lucrative contracts with the musician to have his likeness and persona featured on their 2022 line of spinning Channukah Toys. Bearing the brand name "Ye-dels", each side would prominently display Kanye's face in differing stages of apathy. Instead of the traditional Hebrew lettering representing the phrase "A Great Miracle Happened Here/There", the Ye-dels would have borne one of Kanye's many, many batshit insane prior quotes.
"It's not just the dreidels. We'll be cutting our whole line of merchandising opportunities with Mr. West. I just struggle to figure out what the hell we're supposed to do with 90,000 unsold "Yeezus was Yewish" T-shirts!" said Fishbaum.
"Plus all those Kanye Western Wall figurines…" he trailed off.
This is not the first time SKD has felt compelled to cut ties with spokespeople following anti-Semitic incidents. Who can forget the withdrawal of thousands of Mel Gibson adorned Lethal Shleppin' Talis Bags from store shelves across the nation. Or the disowning of the ever-popular "Passion of the Christ If you Believe in Him in That Way I Guess, We Don't, But You Go Pray Whatever the Way You Want, Don't Let Us Stop You" Menorahs.
Fishbaum notes that his company has begun initial conversations with Brooklyn Nets player Kyrie Irving, "whom we've heard promising things about," but still regrets the turn their Kanye partnership took. 
"I guess if there's one word I would use to describe Mr. West's decision to call for death to Jews, repeat century old anti-Jewish canards, and then consistently double down on some of the most odious language I've heard in my life, it would be: disappointing," said Fishbaum, "Maybe we'll pivot to using someone more reliable, like Nick Cannon."
In related news, West sought to mitigate his financial losses by putting out a statement reading……nope, we can't print that. Nope. Nope. Nope.