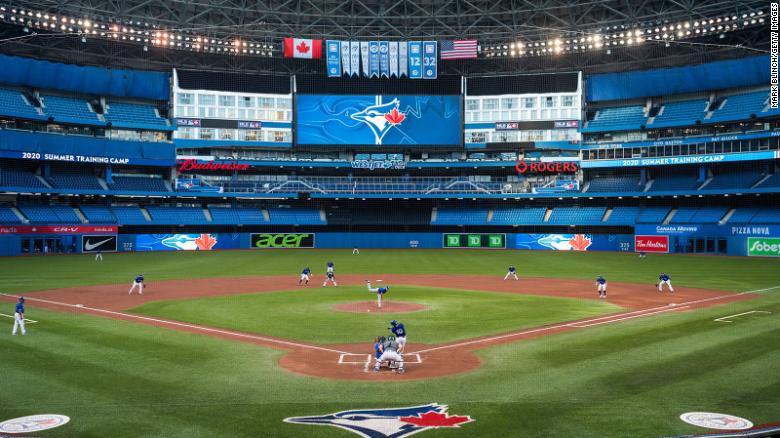 TORONTO – As the Toronto Blue Jays get ready to host the Seattle Mariners in the MLB Playoffs this weekend, the approximately 33 million Canadians who don't live in Toronto are getting ready to put aside their prejudices and root for the city's team like it's their own.
From coast to coast, and right up to the Mississauga border, Canadians who traditionally call Toronto things like "The Idiot Factory" or "Dickheadland" or "That Place that Convinced My Daughter To Date Girls" are suddenly profoundly certain that Toronto represents them and they are represented by the Blue Jays.
The success of the baseball team has garnered new fans, like Lunenburg, NS's Grant Chester.
"They really represent all of Canada", said Mr Chester, uttering a common refrain heard outside of Toronto that has never once been said south of Steeles Avenue. "They're not just a Toronto thing, thank God."
These mixed affections were also found in Abbotsford, BC, where local septuagenarian Agnes Ross spoke from her Blue Jays-themed television room. "Toronto? I don't go to that hellhole myself," she explained, wearing her Vladimir Guerrero Jr road uniform with "Toronto" written across the chest. "But once or twice a year when I fly in to stay at the hotel attached to the Skydome, grab a burger in their restaurant, and then see a game, it's not that bad."
Mrs Ross's live-in adult son Todd agreed. "Toronto isn't really Canada, of course. But the Blue Jays are still Canada's team. We could root for the Mariners because they're right across the border, but that's not patriotic. Instead, we'll root for the Blue Jays while making jokes about Toronto. That's a Canadian tradition."
"Rooting for the Jays or Raptors is a win-win," said Mrs Ross. "If they win the World Series, great, I've always believed they could do it! And if they get swept tomorrow, I'll just say that those idiots deserved it."