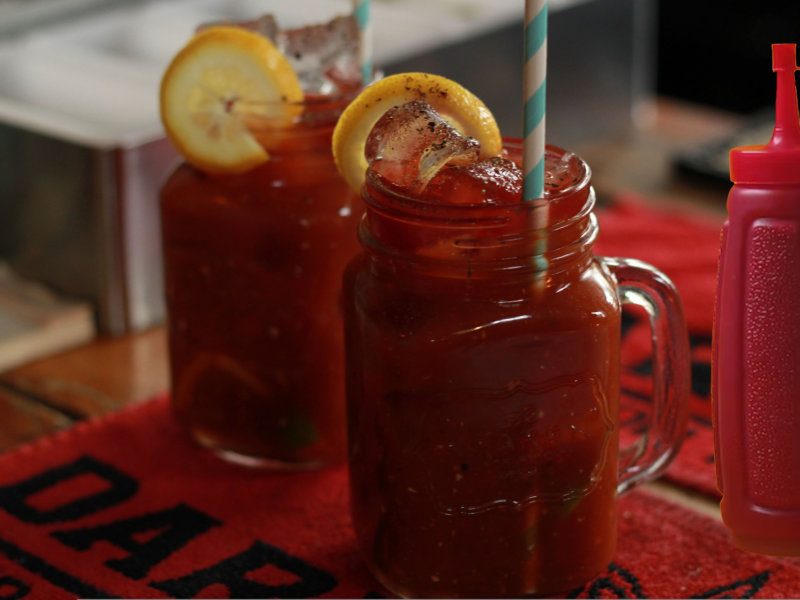 LEAMINGTON, ON – As budgets tighten, ketchup has stepped up once again for the everyman. To say thanks, the Ketchup Caesar was just named Canada's official inflation cocktail by the Professional Bartenders Association. 
"The Ketchup Caesar is a classic, working poor take on our nation's beloved cocktail," says food critic, Phyllis Nichols. "Instead of clamato, Worcestershire sauce, horseradish, lime, hot sauce, and celery salt – the Ketchup Caesar is simply vodka and ketchup. It's cloyingly sweet, but the price point is undeniable."
Like the classic cocktail, Canadians are split on whether they enjoy the Ketchup Caesar. On one side there are those who vomit instantly upon smelling it. On the other side, there are people for whom the Ketchup Caesar is a nice extension of their existing ketchup-infused diet. Like Tate O'Niell, a 20-year-old college student. 
"I've always said that ketchup is the Swiss Army Knife of condiments, and this new cocktail only proves my point," says O'Neill, who would like it noted that he only buys French's after the ketchup wars of 2014. "You can already use ketchup as a pasta sauce, or as pizza sauce on your English muffin mini-pizzas. Why not diversify into beverages?" 
Others, still, have noted the ingenuity. Fern, the local four-year-old girl had this to say about the Ketchup Caesar: "This is exactly the kind of innovation the cocktail landscape has been lacking for decades. And it's not just me who thinks it; everyone in kindergarten is talking about it – well this and Paw Patrol. Anyway, the Ketchup Caesar is the first drink I will order when I'm of legal age."
Until the economy balances out, bartenders are asking Canadian drinkers to give the Ketchup Caesar a chance. They want to keep wearing those cool denim aprons with the suspenders.