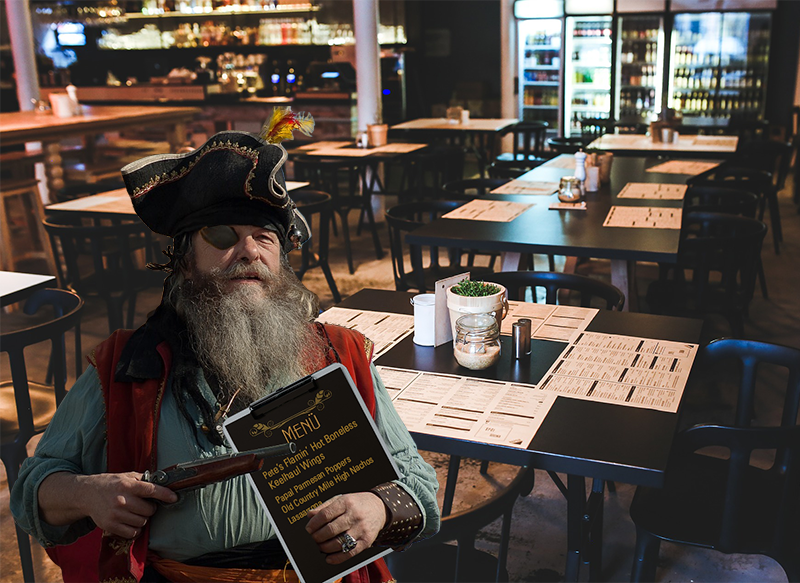 EDMONTON – According to local sources, the diners at Pirate Pete's Pasta Paradise are noticing that the restaurant's elaborate theme menu burns through all its good ideas in its first half. 
"The menu opens with the elaborate tale of how Pirate Pete spent a month in Sicily in the early 1700s while hiding from the Royal Navy, and he loved the cuisine so much that he decided to bring it to North America," a diner said. "It really adds some authenticity to Pete's Flamin' Hot Boneless Keelhaul Wings." 
Other notable items include the Mizzenmast Minestrone, which Pete's loyal lookout subsisted on while watching for Spanish treasure ships, the Papal Parmesan Poppers, made with a recipe that Pete plundered from the Vatican, and the Old Country Mile High Nachos, which promise to "shiver ye taste buds."
"The weird thing is that they use all their good material in the appetisers and salads," the diner continued. "Then it's just, like, Spaghetti Caaarbonaaara and Pirate Penne with Gaaarlic Bread. And Laaarsagna. They start to lean on 'Aaar' a lot. And look, the description for Spaghetti and Pirate Balls is just 'Pete really likes this one!'" 
Additional sources report that the menu's nautical whimsy vanishes entirely by the dessert section, which offers utilitarian descriptions of vanilla ice cream and New York cheesecake. The only exception is the "Cowboy Crème brûlée," which offers a "gold rush in your mouth" and appears to be a remnant of an earlier, western-themed incarnation of the restaurant. 
The "Li'l Buccaneers" place mat suffers a similar abrupt drop in quality, with the front page featuring a pirate crossword and parrot matching game, but the back page only sporting the words "Try drawing some treasure." 
"My kid is freaking the fuck out because his Marooned Mozzarella Sticks are supposed to come with Matey Marinara, but they ran out and just gave him plain old ranch," said one dad. "He refused to eat his dinner until I dragged the eyepatched waiter back to call it Landlubber Sauce. Thanks a lot, Pirate Pete." 
At press time, an anonymous source was calling the menu's critics scurvy bilge rats.