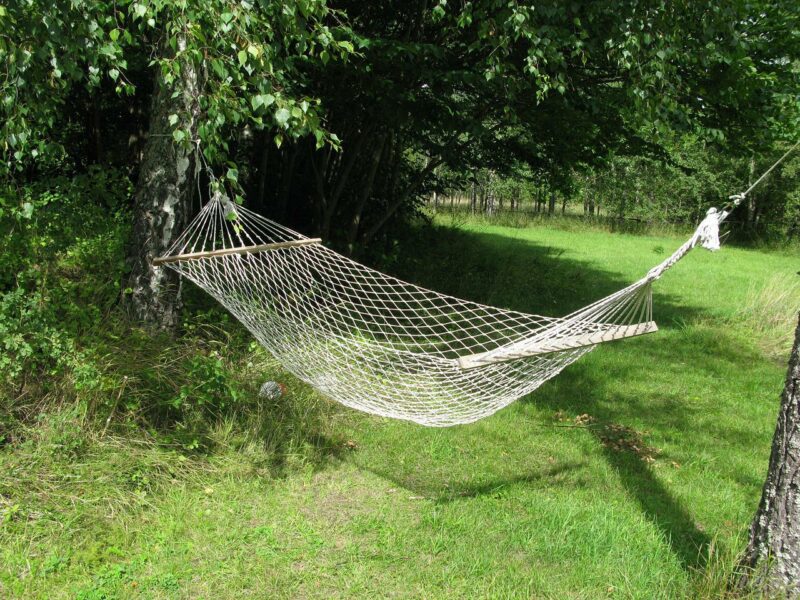 CALGARY – Local bumbler Kevin Hurst is planning to enter his hammock with a variety of easily spilled snacks and beverages, prompting onlookers and analysts to anticipate a series of zany hijinks.
"As a father of three with a demanding career I get very little time to myself, so I really want to make this hammock session count," Hurst said. "That's why I'm carrying this bowl filled to the brim with chips, a jar of salsa I've already opened, a cocktail I've mixed up in my largest and most difficult to hold glass, and a valuable first edition novel I've been saving for a special occasion."
"Normally I wouldn't want to lie around in such hot weather, but thankfully there's a good breeze going," Hurst added as his hammock twisted and roiled precariously.
Hurst's potential approach vectors are complicated by a nearby wasp nest, some rogue spray from a neighbour's sprinkler, and the family's comical variety of large and tiny dogs running around his feet.
"Under normal circumstances Hurst could put his snacks on the ground while he climbed in, but today his dogs would be all over them," a hammock specialist said. "A couple of chips have slipped out already and it was like chum dropping into a piranha tank."
Hurst already had several close calls while dodging through his children's soccer game. "Boy, all the sunscreen I slathered on is making it tough to keep a good grip on my many snacks," Hurst said, as he began to navigate a minefield of scattered croquet balls.
"Ideally, Kevin would have a folding table handy, but he lost his during last week's lawnmowing kerfuffle," said one of several neighbours who had gathered to witness the imminent tomfoolery. "Of course, that was all just a precursor to the pool party debacle. They're still cleaning barbeque shrimp out of the filter."
At press time, a confident Hurst had declared "Okay, I think I've got this all figured out!" as a rogue lawn dart began soaring his way.