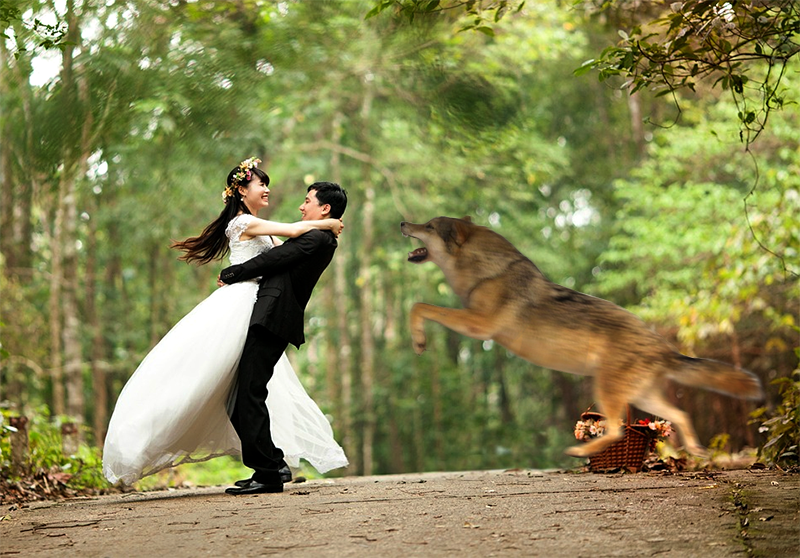 VANCOUVER – Family and friends of Ted and Cecilia Watanabe found themselves whisked away to a realm of wonder, enchantment, and lupine violence at the couple's wedding this past weekend. 
"We knew we had to do an outdoor wedding after finding this venue." the bride was heard telling guests. "It's right by the woods, so you really feel like you're walking through the Three Little Pigs or Little Red Riding Hood. Isn't that amazing?"
The lavish affair reportedly featured a live musical ensemble, servers dressed up as fairy-tale characters, and a catered 'Cinderella'-style banquet, the smell of which was surely what attracted the lupine predators in the first place.
"Ted and CeCe really went the whole nine yards!" said friend Rachel Avellane, unaware that the circling pack of grey wolves were not part of the evening's festivities. "This is totally on-brand for those two. God, the animal handlers must have cost a fortune."
The climax of the evening began with the best man speech given by Ted's brother, Nate. Who started by lifting his glass in a toast, leading others to join him in unwittingly exposing their vital areas to the waiting predators. 
Sensing the time to strike, the wolves surged from the darkness sending guests scrambling on top of their tables upending countless napkin rings, centrepieces, and mason jars filled with fairy lights.
Though even over the frenzied din, guests couldn't help but remark on how beautiful the bride looked in her ballerina ball-gown or the strapping figure of the groom waving around a banquet chair at the steadily advancing predators. 
Yet despite several hours waiting for Animal Control to arrive and a partially-eaten carriage horse, the pair's wedding planner, Carmen Ortega, calls the night 'an overall success'. 
"A successful wedding isn't measured by how beautiful the photos look or how nice the gift bags are. It's measured by how many people are talking about it the next day and by that metric alone, this wedding blows them all away."
"Several guests have already approached me asking for price quotes with one couple asking if I could do bears."
At press time, the weary newly weds had just stepped through their front door, only to be shocked to find that someone had eaten the porridge they had set out and sat in their three chairs.