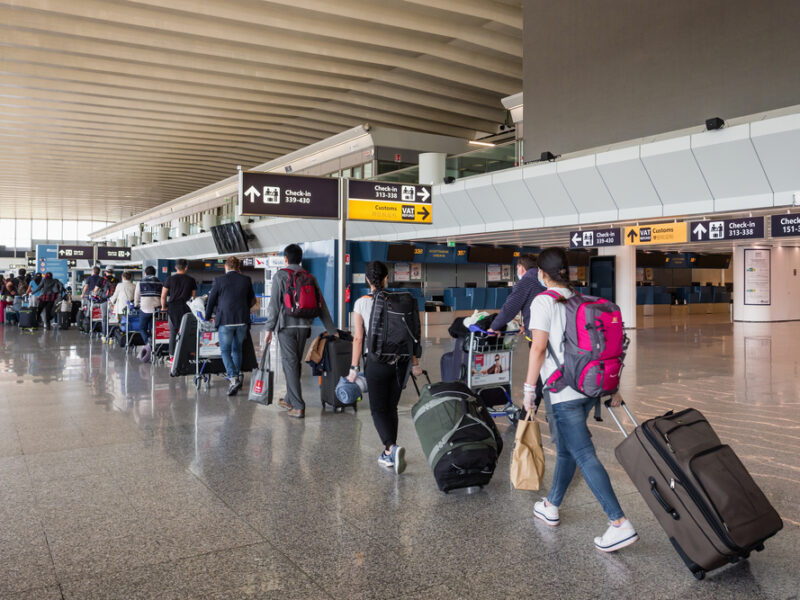 TORONTO – Officials at Pearson International Airport confirm that extensive delays have resulted in a 26.7-kilometres-long lineup for security, stretching all the way into the lobby of the downtown Billy Bishop regional airport.
"This is not ideal," said Pearson spokesperson Devra Stone about the hundreds-of-thousands-of-people-deep queue that extends out the doors of Pearson Terminal 1, down Highway 27, across the Gardiner Expressway downtown, and through the underwater walkway to the Porter Airlines city-state.
"While they may have to wait in line a smidge longer than they're used to, Pearson passengers can ensure a stress-free experience by making sure their documents are in order, toiletries and laptops are easily removable, and that they arrive at least two to three weeks before scheduled takeoff," Flint assured.
For weeks, staffing shortages at Canada's busiest airport have created hours-long bottlenecks in both arrivals and departures. Travellers have flooded social media with reports of bumper-to-bumper runway traffic, towers of abandoned luggage perfectly recreating the city from the opening of Wall-E, and slightly longer-than-usual waits at the Tim Hortons kiosks.
"Customs was so backlogged, my plane sat at the gate for twenty-seven hours before we could de-board," says Tony Cleeves, 41, who was returning to Toronto after an extended business trip to Italy. "Eventually they let us off but started herding us towards the departures area, saying it'd just be faster to line up for our flight home than it would be to leave the airport and come back.
"I told them, I live here, I don't wanna fly somewhere else. And the attendant said 'well, you will at some point.' And I couldn't really come up with a rebuttal," Cleeves recalled. Defeated, he has since returned to Rome and now resides there, leaving behind his wife and two children in Etobicoke.
Stone told reporters she feels immense guilt for passengers' inconvenience.
"I truly can't say sorry enough about the super long lines, but making it even worse is ending up at Billy Bishop. That place just… makes me uncomfortable," she remarked, as the room all nodded in agreement. "It's only accessible by ferry or tunnel, you know? It weirds me out."
As of press time, Pearson officials still refused to speed things up by giving you a fucking pen for your customs declaration form.