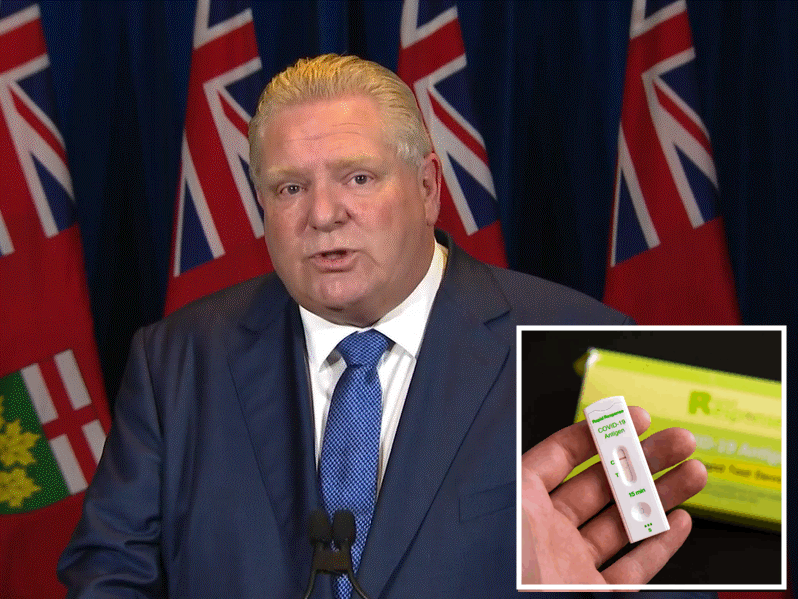 TORONTO – Following a Toronto Star investigation revealing that more COVID tests went to private schools than daycares, paramedics, jails, and homeless shelters combined, Premier Doug Ford has apologized for not sending more to real estate developers.
"The people of Ontario deserve better," said the premier in a statement shoved into the chest of reporters. "We admit more should have been done to make testing more accessible to the essential workers at Orlando Corp, Mattamy Homes, and Colonial House Capital."
Peter Gilgan, president of Mattamy Homes, accepted the premier's apology, stating that he "was no longer furious" but will still be seeking some form of recompense from the premier.
"Such an injustice cannot go without consequences," explained the billionaire from somewhere in the Green Belt, as Mattamy bulldozers levelled a forest for a new neighbourhood that looks like it's straight out of Severance, and not in a good way. "No employee should have to ration their tests to every third sneeze. After the suffering we have endured, I don't think Algonquin Park is too much to ask."
Minister of Education Stephen Lecce commented that the lack of tests for real estate developers shouldn't distract the public from the province's support of private schools.
"In the midst of this unprecedented crisis, our government succeeded in minimizing the disruption to the hazing, cocaine, and molly that is the key to Ontario students' future success."
The minister's parliamentary assistant, Sam Oosterhoff, was quick to point out to reporters that public schools had received support too, emphasizing that they received millions of tests. "The fact that the tests had already been used is just a red herring from the opposition to distract from how we got the essential parts right."
However, Health Minister Christine Elliott conceded that "in the bigger picture" the province could have got more things right, admitting that the ten tonnes of vaccines the province ordered dumped into Lake Ontario straight from arriving at Pearson airport could have been done so further along the shoreline, out of the sight of a complex consisting of a hospital, nursing school, and Amazon fulfillment centre.