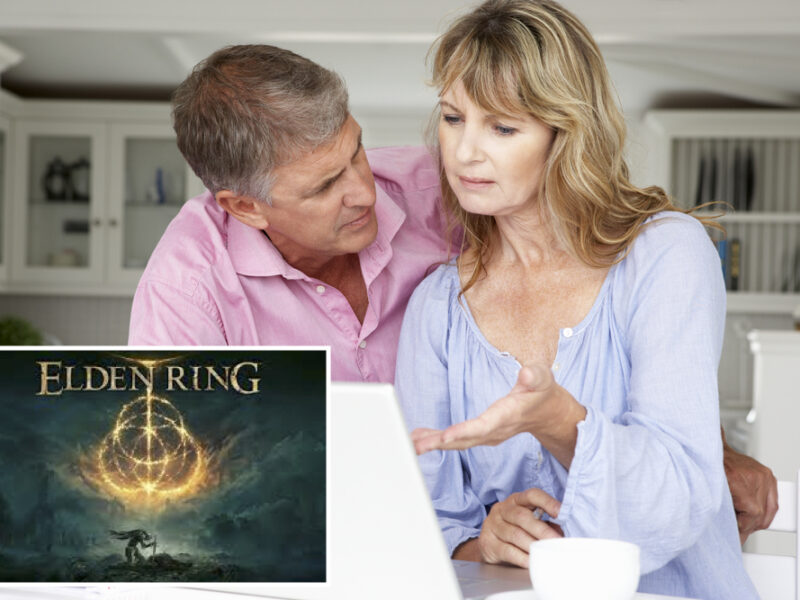 TORONTO, ON — Reports indicate many Canadian parents believe Elden Ring is some form of sex toy, as FromSoftware's newest video game hits 12 million copies sold in 18 days.
Many parents were deeply concerned when their children told them they bought Elden Ring due to the video game's innuendo title. Some went to Facebook frantically looking for an answer.
"WHAT IS AN ELDEN RING? MY SWEET JOEY JUST BOUGHT IT. IT SOUNDS LIKE A SEXUAL CHOKING DEVICE" wrote Karen Stefanovski in the Facebook group "Suspicious Parents of Toronto". "IS MY CHILD A SEX ADDICT? HE'S ONLY 31 AND TOO YOUNG FOR SEXUAL ASPHYXIA. THANK YOU. GOD BLESS YOU."
This isn't the first time parents have jumped to conclusions at the name of a video game. In 2011, there were concerns Skyrim had something to do with "butt stuff". In 2008, professional snowboarder Shaun White's Shaun White Snowboarding was met with intense fears of heavy cocaine use among youth. Despite their assumptions being debunked, parents are still drawing their own conclusions regarding video games.
"Elden Ring, huh? Isn't that one of those contraptions those hippies used in their sex cults in the '80s?" said Alice Baker, a concerned Scarborough parent. "I don't want my children turning into a ranch-living cultist! I'll go 'Waco' on GameStop to protect my children!"
Other parents had concerns regarding one of the video game's collaborators.
"I saw the name George R. R. Martin attached to this Elden Ring, and I just knew it was no good no matter what it is" said Derek Singh. "It's probably some potion that causes incest! No potions in my house. No incest either."
FromSoftware are not unfamiliar with misinterpretation of their video game titles. 2011's Dark Souls had parents wondering if their children had joined a satanic cult. FromSoftware, however, have stood strong in their position on their naming conventions.
"We obviously name our games in reference to their lore," said a FromSoftware spokesperson. "So I'm not sure where parents are getting this idea from. In fact, I hear early studies show playing Elden Ring reduces sexual activity by 100%. It's more effective than the chastity belt. You can't even unlock the chastity belt in-game until the final quest!"
Richard Kwan, a Toronto father of two teens, was relieved to find out what Elden Ring actually is.
"Stacey told me Elden Ring is hard and punishing. I mean, nothing can be both hard and punishing other than a sex toy, right?" says Kwan. "It's good to know it's not some weird sex thing, and when Stacey was yelling things like 'put it in' and 'hit him harder', she was just playing a video game with severe violence, gore, and terrifying monsters."
On release day, Elden Ring became FromSoftware's largest launch on Steam, and most searched title on PornHub.