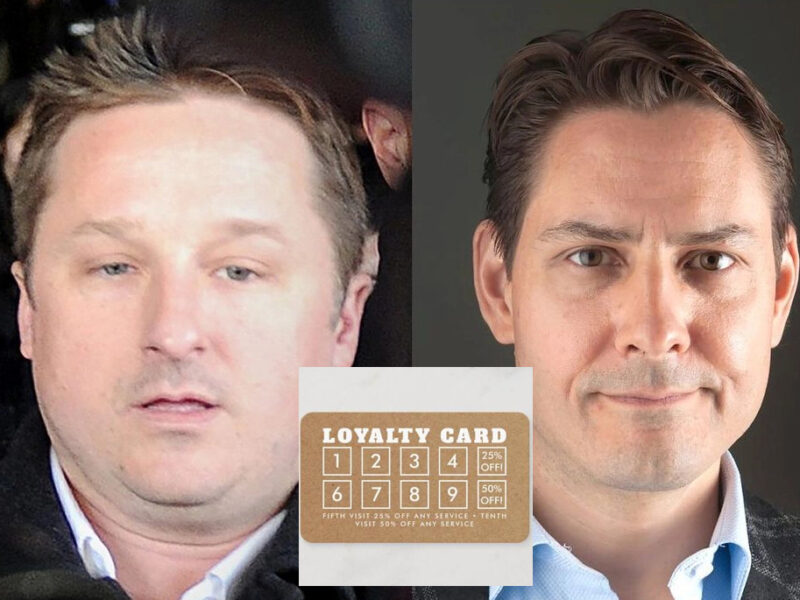 BEIJING – Following a deal that resolved charges against Huawei executive Meng Wanzhou, China has released detained Canadians Michael Kovrig and Michael Spavor, and included a complimentary "Trade For 7 Hostages, Get the 8th Free" loyalty card.
Held for over 1000 days of detention in a Chinese prison on unspecified charges of "spying", Chinese and Canadian diplomatic officials insisted the men were "definitely not hostages" – a claim that became difficult to justify given the small printed card emblazoned with the heading 人质会员卡, which loosely translates to "Hostage Loyalty Card".
"Despite nearly 3 years of us actively pretending the Wanzhou case and the Two Michaels' cases had nothing to do with each other, China has completely given up on any pretense that these weren't hostages," explained Canada's Ambassador to China Dominic Barton. "We had a whole 'Welcome Home From Your Non-Hostage Related International Incident' banner set up for the Michaels, but now it just seems silly."
"Most troubling of all," added Barton, "is how the Hostage Loyalty Card has spaces for up to 7 additional hostage takings in the future. That seems… ominous."
Another Canadian official added "I think the worst part is that even though there's two Michaels, the Chinese officials only gave us one punch on the loyalty card. What a rip off!"
Reached for comment about their Hostage Loyalty Program, Chinese State officials were uncharacteristically blunt. "Think about it. If you were a country with 38 times the population of Canada, could you think of a single reason to pretend you weren't taking hostages in retaliation for arresting a high-ranking executive? We've got more urgent stuff to do."
"The Hostage Loyalty Program is open to all Western nations and will just save everyone, namely us, a whole lot of time," concluded the Chinese official. "Plus after 8 punches, you'll get a free diplomatic hostage AND nifty collectible hat!"
Asked if he should go on pretending future international incidents were not in fact retaliatory hostage takings when using the loyalty card, Chinese officials instructed Prime Minister Justin Trudeau to "knock yourself out".