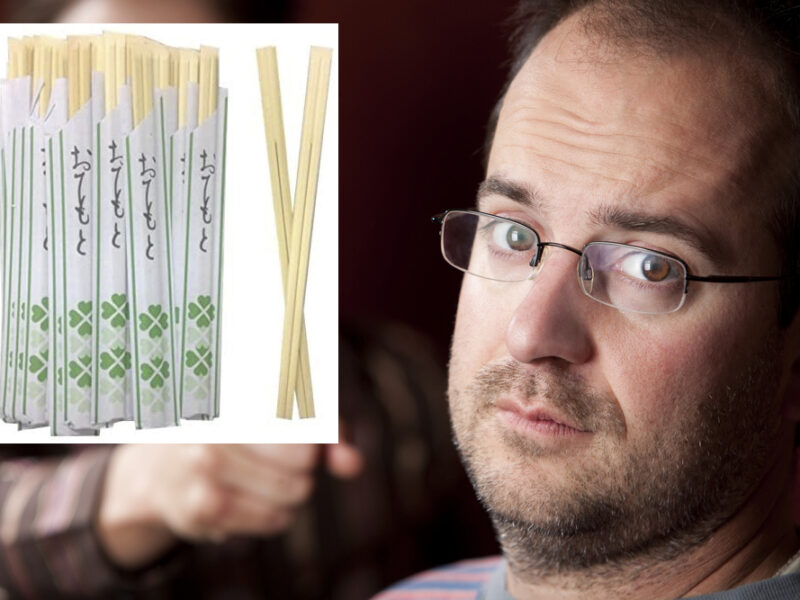 MONTREAL – Paul McGinley, a 29-year-old bachelor, has reported feeling an overwhelming wave of personal shame after seeing how many sets of chopsticks were included in the delivery he just received to his one-bedroom apartment.
Upon receipt of his order from Szechuan Wok, a nearby Chinese restaurant, McGinley received no less than 16 sets of chopsticks within the bag containing his food. Also included were 25 packets of soy sauce, an entire package of serviettes, and, given his last name, a matching number of forks and knives.
"I know they sometimes throw in extra sets since it's better to have too many than not enough," said McGinley, "but these came in their own separate bag and the delivery driver asked me if we were throwing a birthday. For God's sake they sent empty take out containers so that I could send stuff home with the guests they presumed I had."
"I actually called out to some non-existent people in my living room to avoid admitting to this random driver that I was about to eat this all myself," he continued.
Experts agree that the presumption that McGinley's order was intended for a family of 15 – at least – was a rational one. They point to McGinley having ordered one dish from each of the menu's 12 different sections, along with three appetizers and dessert. Nutritionists have indicated that the totality of the order would be "profoundly dangerous" for one person to consume on their own.
"I guess I just wanted to try a little of everything. I mean, maybe I'd finish it in one sitting, but is that so wrong?" said the single person who was interpreted to be dozens, "I was initially looking forward to this dinner but this whole ordeal is making me take a real long look at my life choices."
McGinley did begin to feel a little better after rationalizing that he skipped lunch and so it was ok to order a little more than usual. However, this fleeting confidence was dashed after he glanced at the receipt and saw that he received a 15% discount for "large orders". This sense of despair only deepened as he realized that he was, in fact, capable of finishing all the food himself.
"We've been on the razor's edge financially for a while," said Sammy Lee, owner of Szechuan Wok, "but Mr. McGinley's order for himself and what we are forced to assume is a medium-sized corporate team working through the night pushed us over the line for the month."
As a matter of principle, McGinley planned to store the majority of the order in his fridge for future meals over the course of the week, but instead just ate it all like the gross monster he is.