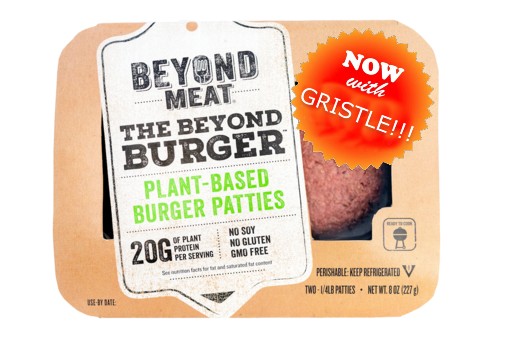 EL SEGUNDO, CA – As part of their ongoing quest to create a plant-based meat that accurately mirrors real meat in every way, Beyond Meat has begun sprinkling inedible vegan gristle into their products.
The company is hopeful that this step towards verisimilitude will encourage more people to sample their offerings. As noted in their announcement of the news, "This is for everyone who might consider giving up meat but doesn't want to lose that shiver-inducing moment when the piece of chicken they've been chewing on suddenly crunches."
Given that the field of meat substitutes is rapidly expanding, Beyond Meat had been looking for ways to set themselves apart from the pack. They recruited dozens of mouth-feel experts and challenged them with the directive "Styrofoam squeak, but in your mouth."
The results of their gamble make for a culinary experience identical to that of actually eating meat. The bits are small enough to easily spit into a napkin when you think no one is looking, as well as randomly placed so you never quite know they're coming.
"At the end of the day, it's about realism," says company spokesperson Mischa Lang. "That encompasses so much more than just taste. Our products have always been delicious but now, just like real meat, they can also make you so nauseated that the very thought of finishing your meal is anathema."
Anticipating that this new product's extreme meatiness may turn off vegan consumers, Beyond Meat also announced a new division devoted to researching meat-substitute substitutes.