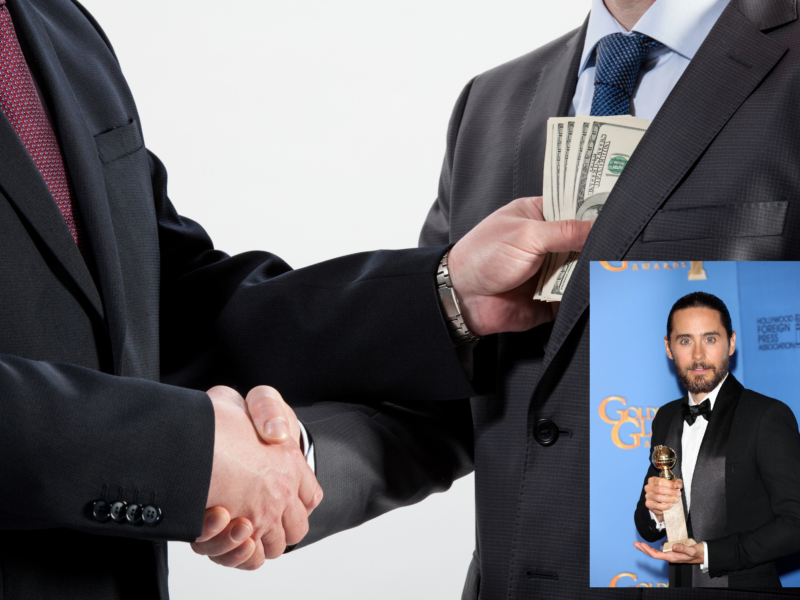 This past Wednesday, the Hollywood Foreign Press released their hotly anticipated nominations for the 2021 Golden Globe awards. After delays due to the global pandemic, the nominations were finally announced, showcasing the who's who of knowing how to properly bribe the shit out of a morally compromised Hollywood Foreign Press.
With shows such as Emily in Paris being celebrated while others like I May Destroy You being overwhelmingly snubbed, it was apparent that the most talented at writing kissass letters were the top contenders in this year's nominations.
"The pandemic definitely made this year's choices a challenge," confirms HFPA member Hal Johalson. "But when the press got together over a Zoom call we realized, it couldn't be easier to choose because Ryan Murphy sent us the biggest Edible Arrangements basket we had ever seen. It was nearly the size of the convertible Johnny Depp bought me when I pushed to nominate him for The Tourist back in 2011."
While many entertainment outlets noted that this year's nominations were definitely controversial, the Hollywood Foreign Press stands by their decisions because "James Corden gives amazing back rubs and it would be insane to turn that down and not nominate him."
However, many producers and actors outright deny the allegations of bribery. In a 2020 interview with Netflix producer Johnny Notaweinstein it was mentioned that bribing is close to impossible in the time of Covid.
"Before Covid it was super easy and very possible, but in this post-pandemic world the mail is so slow," Notaweinstein explained. "I was shocked they received my bag of diamonds to ensure Glenn Close snags that best supporting nod, otherwise why did we even make an excruciatingly offensive movie about hillbillies?"
While many in the industry do not even consider The Golden Globes a real award show, but just another way to get absolutely hammered on live tv, the majesty and the decadence of award shows is something the public claims to be clamouring for within this second wave of the novel Coronavirus. According to a poll, 72% of Canadians will watch the Golden Globes due to the daily threat of Netflix Canada removing The Office from their streaming service.
The Golden Globes will air Sunday, February 28th, and tune in to see all your favourite stars that are your only choice for being your favourite stars due to nepotism, blackmail and white supremacy.