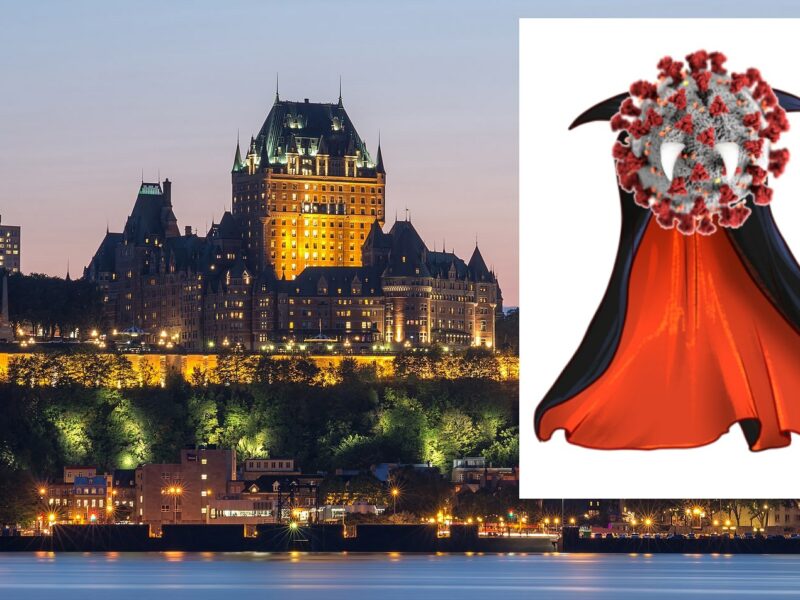 QUEBEC CITY, QC – Facing criticism of the recent province-wide curfew, Quebec health officials have revealed the precaution is intended to shield the population from a recently discovered vampire strain of COVID-19 which can only infect people at night.
"Research is still scarce on this spooky scary strain, but we do know it uses cover of darkness to do its horrible work," says one expert. "Fortunately, early studies show exposure to sunlight causes this strain to hiss, emit smoke, and turn into a pile of ashes."
The Quebec government received pushback against the curfew, with citizens calling it an inadequate measure. "We would never take any precaution that wasn't highly effective" said Premiere Legault; "this is exactly like taking temperatures at the door and asking people if they've ever coughed. Now excuse me, my shipment of holy water just arrived."
While virus mutations are common, one epidemiologist expressed worry at the new strain. "I don't want to panic everyone," said Dr. Joseph Steed, through a mask that also covered his neck, "but in my scientific opinion, this strain is as powerful as 100 Draculas." Dr. Steed went on to say the vampire strain is incredibly difficult to study under a microscope, as its reflection does not appear in mirrors.
Scientists have named it the NoS-Fera2 strain, though many female scientists call it the Carmilla strain and are writing erotic fan fiction about it.
In addition to the curfew, the Quebec government suggested citizens carry a small cross with them at all times – though public officials will only be allowed secular crosses. For those few taking advantage of curfew exceptions, such as for medical appointments or owning a dog, health officials recommend vigilance: "Someone could jump out and bite you on the neck. And that someone could have COVID-19."
Ontario is not currently planning to issue a similar curfew, with conservative politicians such as MPP Renfield claiming the vampire strain can't infect you unless you invite it in, "which you should definitely do".
Premiere Legault maintains he does not know when the curfew will be lifted, but remains optimistic: "It's been so great to have a bogeyman to focus on, rather than our own incompetence."
Legault then went on to announce precautions for a new werewolf strain, including a roll-out of silver injections and completely giving up on contact tracing.