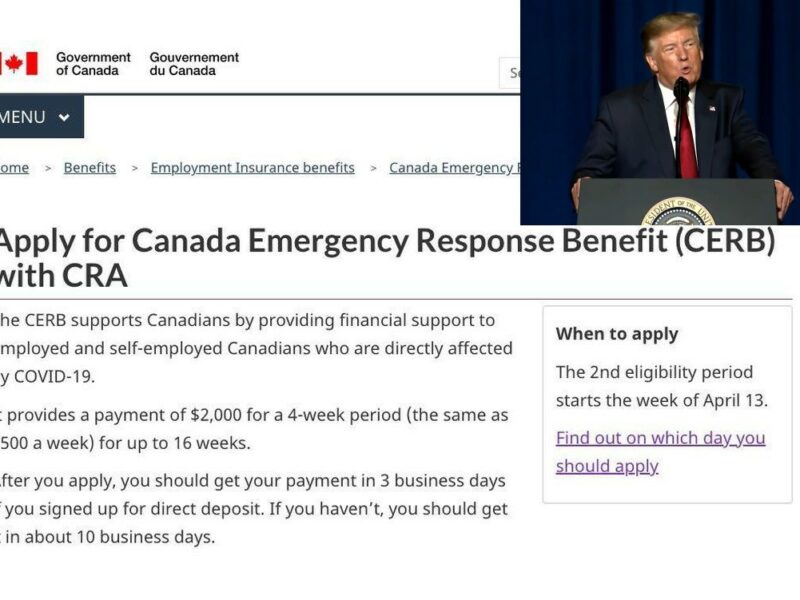 WASHINGTON DC – After a New York Times article revealed President Trump has lied on his federal income tax return in the last fifteen years, a further investigation revealed that Trump has been receiving financial support through the Canadian Emergency Response Benefit (CERB).
According to a source close to Trump, who has chosen to remain anonymous, when the President heard unemployed Canadians were receiving pandemic pay of $2,000 a month from the Canadian government, Trump too, decided to apply for the financial assistance program.
"President Trump may be the president, but he's also one of the people," announced press secretary Kayleigh McEnany in a press conference. "So, just like us blue-collar-workers, he too has been hit hard by the pandemic. Probably even the hardest. Especially after his one-time $1,200 stimulus cheque ran out…"
"The application was online and very easy to fill out," said Trump via phone, after forgetting to disguise his voice. "Although, good luck getting a Service Canada representative on the phone. Not only are the wait times insane but I pressed the wrong button and I was stuck yelling at a French automated message. How do you say 'why hasn't my CERB been deposited to my off-shore account yet' but in French?!"
Trump then went on to tout that as long as he filed out his weekly reports, ensured any additional income was less than a grand, and pinky-promised that he was definitely looking for a job, no one was the wiser. However, when explained that CERB isn't tax free and that he'd have to pay tax on it next year, Trump reportedly winked and said "Guess I'll have to borrow another 300 million from the Russian mob."
However, now that CERB is ending, Trump took to twitter to threaten Prime Minister Trudeau to extend it or else he'd hike tariffs on softwood lumber and/or release another photo of the prime minister in black face.
The New York Times article also revealed that Trump has a TFSA, 700,000 Optimum points, and an SPC card, which he frequently used to receive 15% off at Sunglass Hut.