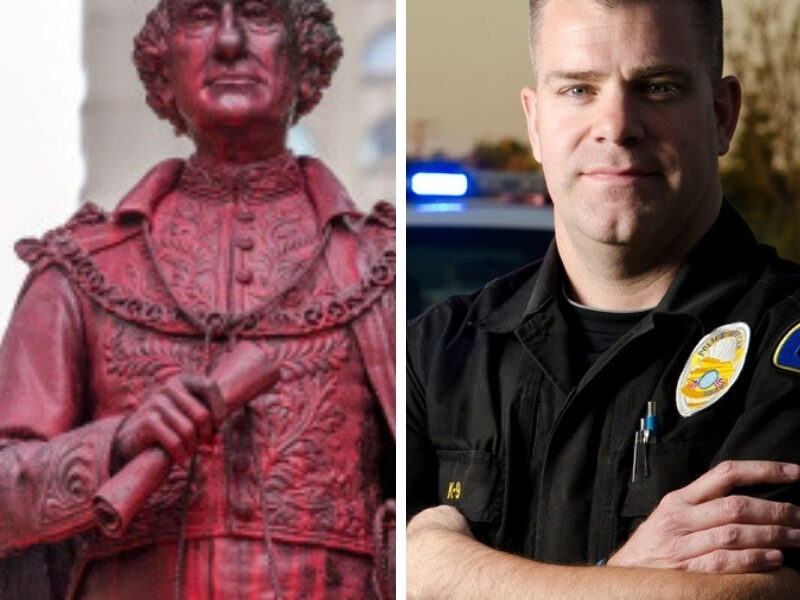 TORONTO — Following the arrest of three Black Lives Matter – Toronto protesters over the act of dousing racist monuments in bright pink paint, Toronto Police are threatening considerable legal consequences for further vandalism, citing how difficult it is to remove paint from police uniforms.
"The Toronto Police Service supports the right of the public to demonstrate and protest, but there are consequences to throwing paint on symbols of systemic racism," said Police Chief Mark Saunders, "Namely the dry cleaning bills that the women and men of the Toronto Police Service have to pay every time it happens".
Toronto Police have been increasingly frustrated by protesters painting messages on images of white supremacy to push for their removal: "We're not going anywhere, and we're not going to allow rioters to whip out a can of spray paint every time they see images of Canada's continuing legacy of genocide against Indigenous peoples," said Constable Jim Patton, graffitied head to toe with ACAB stencils, "Do you know how hard it is to get oil based paints out of Kevlar?"
On Saturday, Toronto Police held protesters for 17 hours while delaying their access to legal counsel and delivering misinformation to their supporters. Activists see this as retaliation for their push to dismantle publicly visible structures that represent slavery, colonialism and violence, also known as the Defund the Police movement.
Mayor John Tory has spoken publicly of the need to reform Toronto's policing system, but a recent motion by City Council to reduce the TPS budget by 10% failed in favour of Tory's motion to spend $50 million on Tide sticks.
The Toronto Police Association denies the need for change, and has also argued against related protests seeking to remove statues of historically racist figures John A. MacDonald and Egerton Ryerson, asking "If we start removing people who perpetrated genocide and oppression, who will white women threaten to call whenever a service worker says something they don't like?"