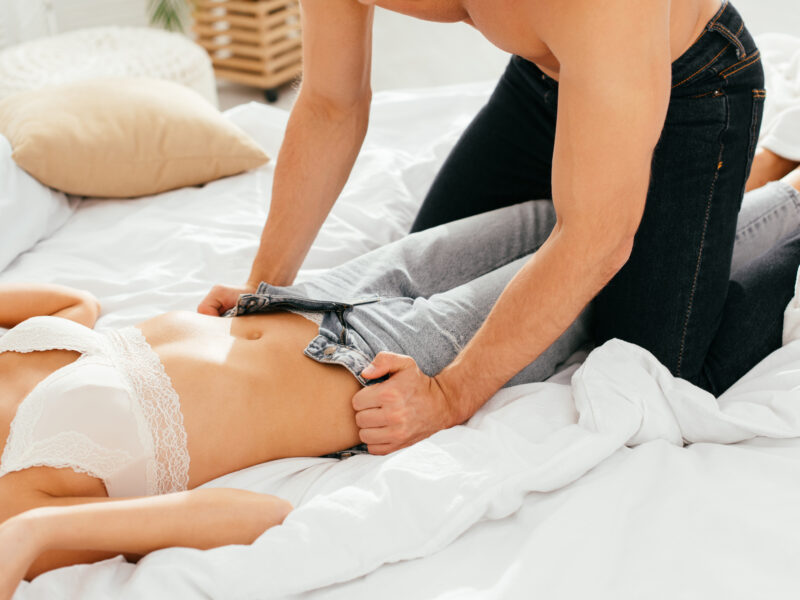 TORONTO – Monica Gonzales and Tom Meyer, a couple living in downtown Toronto, had been self-isolating together for over a month when they felt their relationship growing stale. The couple, who hadn't worn real clothing for several weeks, decided to try to bring the fire back into their lives by putting some pants on.
"You'd think that constantly walking around with no pants would be really enticing and sexy," explained Meyer, a recently laid-off service industry worker currently putting together his thirteenth jigsaw puzzle of the quarantine. "And it was, for the first day or two. But realizing that you're both going pants-less because you can't be bothered to dress yourself is a real turnoff."
"So, we thought, 'how are we going to bring the sexual excitement back into our relationship?'" Gonzales asked, pausing to take a sip of red wine straight from the box. "And it hit us: let's put our pants back on! It sounds like that would be the opposite of seductive, but it turns out that watching your partner complete even the most basic tasks during a pandemic is insanely erotic."
She added: "This morning, I swapped my sports bra for a conservative button-up, and he nearly had a heart attack. We each threw on three scarves, two jackets, a balaclava, and went to town. At this point, we can't climax if we can see each other's bare skin."
Couples therapist Karen Mulligan was quick to explain that this behaviour was not unique among couples weathering the pandemic together.
"My advice to partners who are feeling the libido-quashing effects of COVID-19 is to shake up your routines," Mulligan said. "Instead of a boring strip tease to the sexy sounds of Marvin Gaye's 'Let's Get It On', try rolling freshly-laundered socks onto your feet while reciting the day's grocery list. Change your usual water-saving morning shower into a debaucherous couples' hand sanitizer orgy. Ladies, grow out your leg hair so your partner can erotically braid it."
"The spark will be back sooner than you can say 'ongoing global health crisis.'"
At press time, Monica and Tom had agreed that the sexiest either of them had ever found the other was when they forced themselves to wear jeans for a grand total of five minutes.