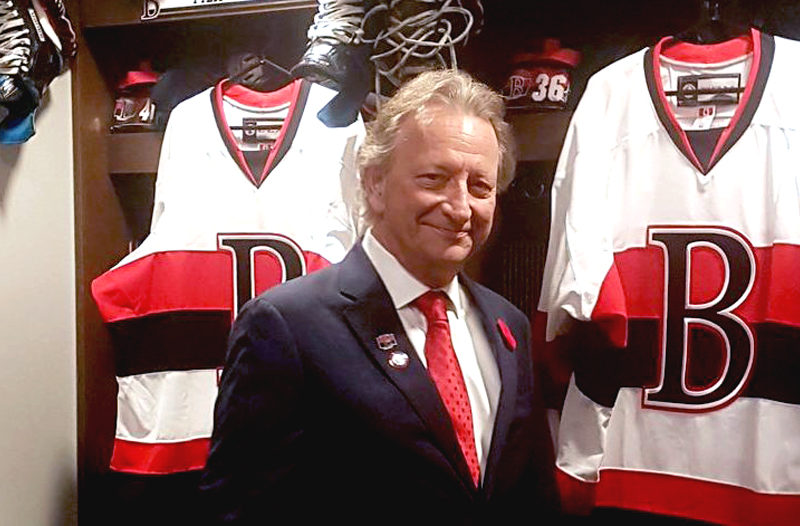 KANATA, ON – After a little more than a week after wrapping their 31st-place season, Ottawa Senators owner Eugene Melnyk held what was otherwise a routine press conference today about the team's direction moving forward and their commitment to the city of Ottawa aside form his constant reference to the team as the "Houston Senators."
"We're very excited about the talent in this organization. Fans of the Houston Senators will have many reasons to cheer on their team," said Eugene Melnyk earlier this afternoon while wearing cowboy boots. "The past year has been a struggle for us, but we like how things are moving forward. Just like how this city recovered from Hurricane Harvey, I have no doubt in my mind that the Houston Senators will soon be thriving and competing for the Cup again."
"Next year, our loyal fans here in Ottawa will be proud to cheer for their Houston Senators," he added.
This press conference is just the most recent mishap for Melnyk and his Senators franchise, after the owner's failure to secure a downtown arena, several lawsuits, and a feud with the city's mayor. Fans have been using the #MelnykOut hashtag in an effort to get him to sell the team, and more recently the #HoustonMelnyks hashtag in an attempt to deport him entirely.
When asked about his commitment to Ottawa by reporters, Melnyk replied that he loves it here, and truly believes Canada's capital is, "Hands-down the best city in the lonestar state."
"Our rivals should be terrified when they walk into the Toyota Centre and hear our screaming fans," explained Melnyk in a rallying cry. "Whether it's the Dallas Stars, or the Nashville Predators, no team is safe from Sens nation!"
While it remains to be seen whether or not Eugene Melnyk plans to move the team, fans have found some optimism after noticing that Houston is only marginally further from downtown Ottawa than Kanata.
Image via Twitter