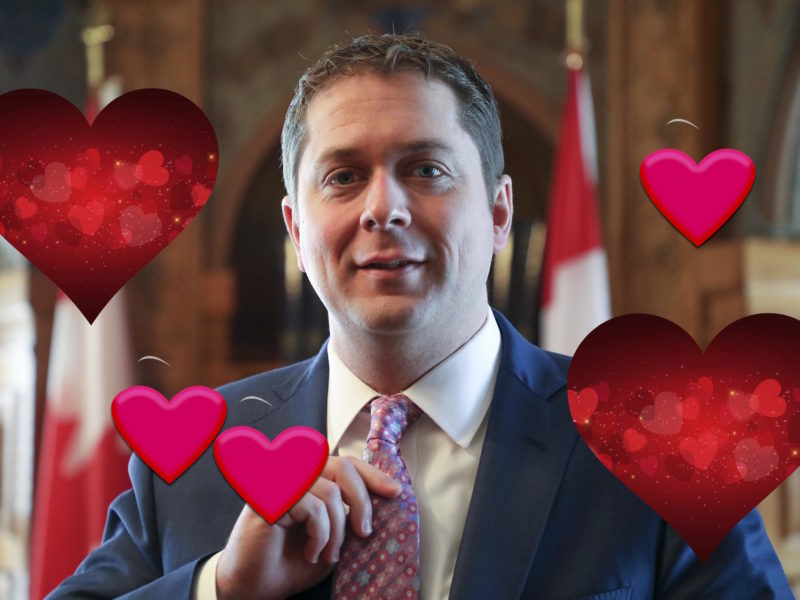 OTTAWA –- Conservative Leader Andrew Scheer has announced he will top his uncomfortable 2018 Christmas message to the nation with an even squickier video set to be released on February 14th.
According to party insiders, the video hopes to cash in on Scheer's status as a sex symbol, and is expected to make Canadians feel like they need to take a shower.
The message will reportedly begin with the Leader of the Opposition languidly reclining on a chaise, and dressed in a copy of the carbon tax bill, while uttering the line: "Why don't I slip into something more comfortable?".
Scheer's chief of staff Marc-Andre Leclerc is confident the message will go over well. "As with our Christmas message, we here at the CPC understand that when Canadians think of the holidays, they think of nakedly partisan political messaging. But that doesn't mean Mr. Scheer can't also get a little frisky."
"Few people understand the spirit of the holiday better than Andrew Scheer," Leclerc added. "He knows that for most Canadians, Valentine's Day is a time to climb into bed with that special corporation, and snuggle up with their beloved members of the dairy lobby. It's not all about taking off your shirt and posing. Though there will be posing."
The Beaverton has obtained a leaked full draft of the script, which includes the stage directions "saucy wink", "luscious pout", and some other things that were frankly not suitable for print.
At press time, the Conservative Party of Canada has released the following statement: "If Andrew Scheer taking off his shirt is what Canadians want it's not off the table. #ElectionYear"