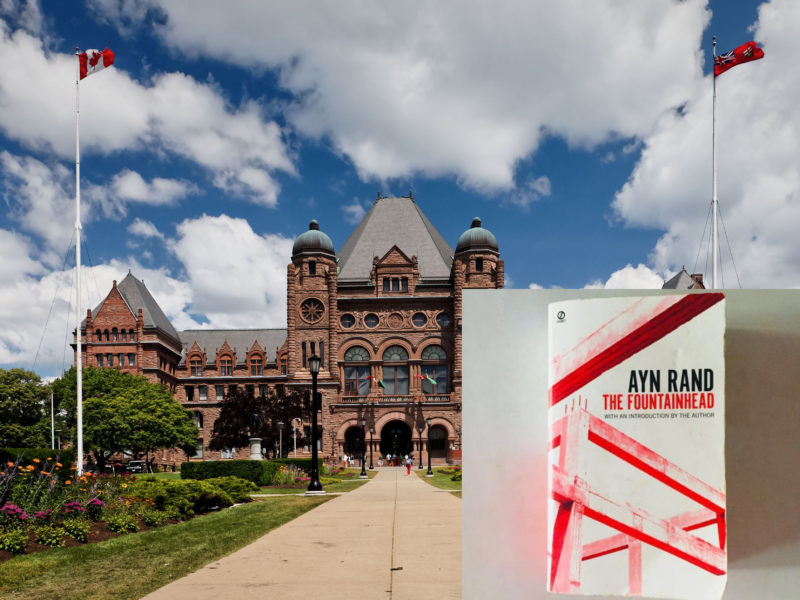 QUEEN'S PARK — After a meteoric rise through Ontario's progressive conservative party, A dog eared copy Ayn Rand's 1943 novel The Fountainhead has become Ontario's Associate Minister of Finance .
"I could not think of anybody or anything who is more in line with government's values," stated Minister of Finance Vic Fedeli. "Dog eared copy of The Fountainhead has already come up with some great ideas to cut the infrastructure budget, namely by hiring a renegade architect that won't listen to anyone."
The dog eared copy of The Fountainhead has previously worked for the Fraser Institute, where they wrote the research paper "Can you catch poor?", and also as chief financial analyst for Fannie May until 2007.
"It's nice to finally have something who isn't clouded by biases," stated Premier Doug Ford. "You wouldn't believe how many people have a soft spot for the environment, or children, or the elderly, or refugees, or human beings. I am confident that nothing suits conservative economic ideology in 2018 better than a WWII-era novel written by a woman who had never studied economics."
In its inaugural address to parliament, dog eared copy of The Fountainhead stated "No man can live for another. He cannot share his spirit just as he cannot share his body. But the second-hander has used altruism as a weapon of exploitation and reversed the base of mankind's moral principles. Men have been taught every precept that destroys the creator. Men have been taught dependence as a virtue." Dog eared copy of The Fountainhead also stated that its main objectives in office are all the passages that a teenage Paul Ryan underlined when he was 19.
In a related story, a racist nursery rhyme has taken over from Greg Rickford as Minister of Energy, Northern Development, Mines, and Indigenous Affairs.