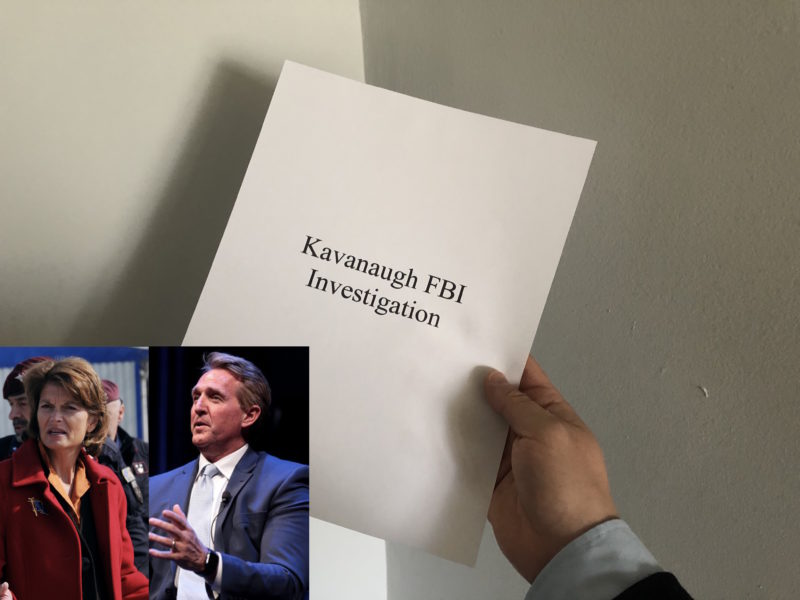 WASHINGTON D.C. — Senators Flake, Collins, and the rest of the GOP are praising the FBI's report on their investigation into Supreme Court nominee Brett Kavanaugh, which consists entirely of the words "Kavanaugh FBI Investigation" on a blank sheet of paper.
Amid claims the White House limited the scope of the investigation, the FBI released their three-word-long report into allegations that Kavanaugh sexually assaulted several women. The FBI's full findings are summarized in the one-page report, of which only a single copy exists in a locked room, and senators were only permitted to read for one hour while spinning in circles blindfolded.
"I am 100% confident there's no possible way that Judge Kavanaugh could have sexually assaulted anyone at any time. After all, this page is in Times New Roman, the most respected font," explained Sen Majority Leader Mitch McConnell (R-KY). As to the investigation's thoroughness, Sen Susan Collins (R-ME) added, "It's very thorough. This sheet used to just say 'Investigation', but we made them go the extra mile and add 'FBI' and 'Kavanaugh'.
Collins concluded, "Now if you'll excuse me, I have to go vote this man onto the highest court in the land for the rest of his life."
Other GOP senators who had called for the investigation appeared won over by its findings. "I've read the sheet of paper carefully, and I'm absolutely convinced it proves Kavanaugh's innocence," exclaimed Sen Jeff Flake (R-AZ). Asked what he believed about the women accusing Kavanaugh of sexual assault, Flake responded, "Uhh, where's that lady we hired so that we don't have to call women 'liars'?"
As the investigation unfolded over the past 5 days, reports emerged that the White House restricted the FBI from interviewing several witnesses, including: Brett Kavanaugh, Dr. Blasey Ford, any witnesses who could corroborate Kavanaugh's drinking at Yale, registered Democrats, anyone who had ever met Brett Kavanaugh, anyone who knows what Brett Kavanaugh looks like, or "uptight women".
At the White House, President Trump spoke to reporters regarding the one page report. "The FBI's piece of paper, which I will soon finish reading, proves Brett didn't do it! What more do these crooked Democrats want? In fact, maybe they're the ones who assaulted that lady?"
Trump finished by saying, "Anyway, the paper is beautiful, and I look forward to directing my Justice Department to compile a similar report about me and Russia."
At press time, Senate Democrats were finally allowed to view the report, and noted that "Kavanaugh is spelled wrong".