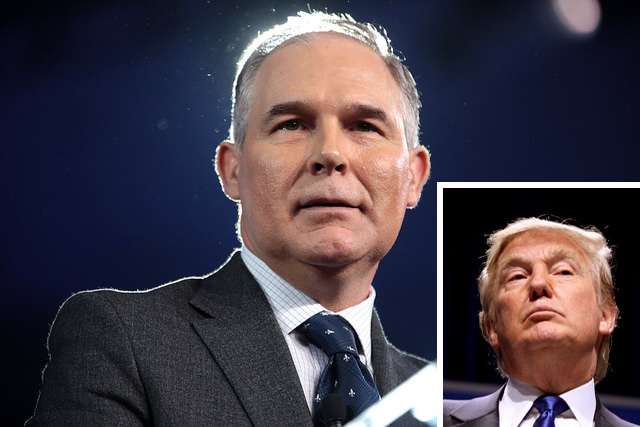 WASHINGTON D.C. — President Donald Trump has demanded the resignation of EPA Administrator Scott Pruitt, claiming Pruitt had not shown enough commitment to personal enrichment and graft.
Despite Pruitt's term as EPA chief being plagued with scandals, including hiring his wife, hundreds of millions spent on personal security and soundproofing, and forcing aides to spend hours obtaining specific hand lotion, this reportedly was not enough for Trump.
"The President expects his appointees to maintain a certain level of malfeasance," explained one anonymous source who requested to be identified as 'Beve Stannon'. White House insiders report that Trump had grown angry with what he perceived as Pruitt's "embarrassingly penny ante scams" during his time as head of the Environmental Protection Agency.
"Trump's getting billions from China and Russia, Ivanka's tacky-ass clothes are through the roof. Hell, Kushner's utterly useless and even he's still raking in multi-million dollar 'loans' from the Middle East. Scotty just couldn't keep up with the big boys," added 'Stannon', while answering dozens of lobbyist texts on his phone.
Trump also grew irate following revelations that Pruitt had aides keep "secret calendars" detailing his illegal kickbacks. "Those calendars should have been public," Trump shouted at a rally in Dearborn, Michigan. In what turned out to be one of the most coherent moments of the rally, Trump thundered: "All the guys from Saudi Arabia and Qatar were laughing at how little money my lieutenants were fleecing from the American people. It's humiliating."
The final death knell for the embattled EPA chief came amidst reports that, during a routine bribery meeting, Pruitt accidentally protected some of the environment.
"He prevented some bullshit stream from getting mercury duped into it, and really that was the was the last straw," explained Stannon, shaking his head. "Just look at (Besty) Devos in Education, she understands the Trump motto: 'If you've got time to lean, you've got time to clean out the agency you were supposedly hired to run while also profiting off its demise'," Stannon detailed.
Reached for comment, Scott Pruitt expressed no regrets about his level of corruption over the past 18 months. "I was appointed by Mister Trump to personally enrich myself while dismantling any and all environmental protections in the USA, and I'm confident that my service has made a difference."
Pruitt also said he plans to face absolutely no repercussions, while spending the rest of his remaining days wealthier and more comfortable than you could possibly imagine.