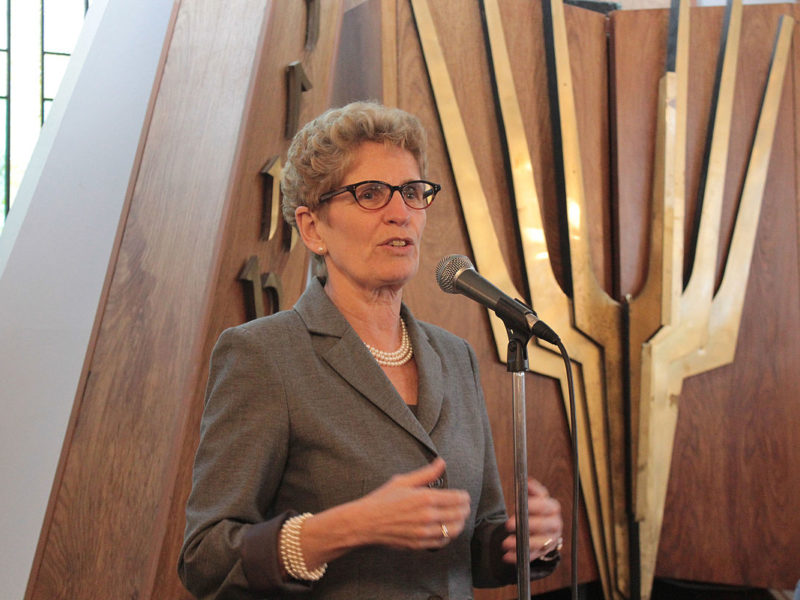 TORONTO — As the provincial election looms, Ontario Premier Kathleen Wynne announced that she is rescinding her endorsement of Liberal leader Kathleen Wynne.
"This was a difficult decision, but I just no longer believe in Kathleen Wynne's ability to lead this party to victory," said Kathleen Wynne. She went on to explain that, besides falling poll numbers, Wynne's track record of rising Hydro prices and a desire for change led Wynne to revoke her endorsement of Wynne.
"This break has been a long time coming," said Premier Wynne as she laid into Premier Wynne's low approval rating. "For months now I have been travelling across Ontario, and hearing first hand how disappointed its people are with me. And now, finally, I have no choice but to agree – It's time for me to go!"
After losing the crucial Teachers Union endorsement, Liberal staffers remained confident that Premier Wynne could retain the crucial Kathleen Wynne endorsement. Wynne had endorsed Kathleen Wynne in every previous election, making today's show of non-confidence all the more painful.
When asked whether she would shift her endorsement to another party leader, Wynne replied, "Association with the Kathleen Wynne brand would be a death knell for any of the remaining candidates. Plus, they specifically asked me not to."
Wynne insisted that voters stick with the Liberals on election day to prevent an NDP or PC majority, adding, "And you can trust my math. I learned it in the Ontario education system."
"Furthermore, if there's anything I've learned from watching Kathleen Wynne for the past few years, majority governments are a terrible idea."
When pressed on what her revoked Wynne-dorsement meant for the remainder of the Ontario Liberal Party, Kathleen Wynne simply shrugged.
"I dunno. Smoke 'em if you got 'em," declared Premier-for-now Wynne to her party faithful.
Reached for comment, Ontario PC leader Doug Ford answered, "That means I win, right," before shoving past a laid-off auto worker and heading for his Escalade.