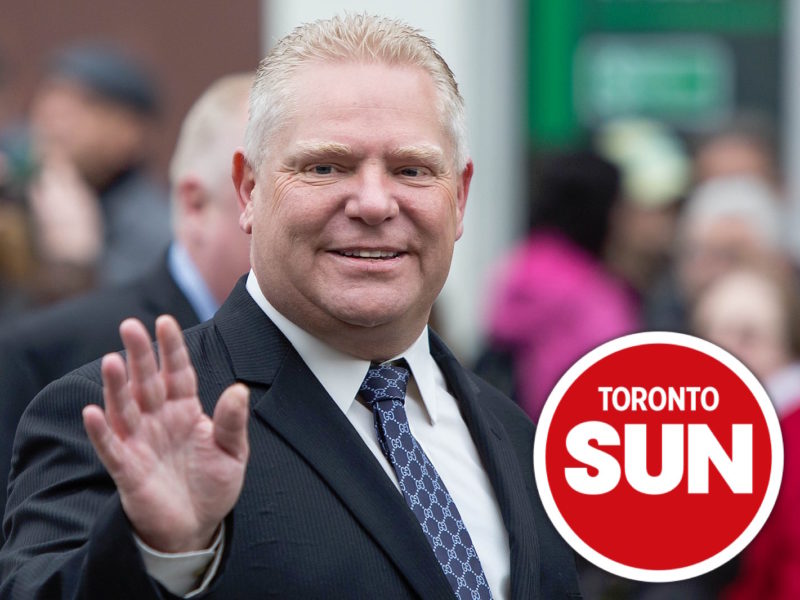 TORONTO — As newspapers across Canada face budget cuts, the Toronto Sun has announced it will save money by outsourcing all of their Ontario election reporting to Doug Ford and his Progressive Conservatives.
"We see this as a natural outgrowth of the Toronto Sun's longtime business model," explained editor-in-chief Adrienne Batra. "Whereas before we would need to waste time guessing what the Ontario PCs wanted us to write about Kathleen Wynne or sex ed, now we just let them do it for us. So much more efficient."
A Postmedia memo outlining the Ontario PC partnership and titled "Let's Just Stop Pretending Anymore", was leaked last week. While this memo made waves in Ontario's journalistic community, Sun staffers stood by the plan. Sue Ann Levy, Lorrie Goldstein, and Candice Malcolm described the move to allow a political party to shape their news coverage as perfectly in line with the Sun's small business conservative values.
The Sun editorial board has also said the move will afford the paper much more time to wildly speculate on the religious beliefs of the perpetrators of terrorist attacks before any facts were known.
Far from hiding their intentions to turn their pages over to the Ontario PCs, the Sun has started advertising the forthcoming election coverage to readers. Tanya Granic Allen will pen an upcoming investigate series entitled "Is Kathleen Wynne An Evil Lesbian Witch? Probably". Meanwhile campaign chair Dean French has already composed numerous articles about how Doug Ford has never even seen hash, definitely knows what the word 'legislate' means, and why we were all sick of the Green Belt anyway.
Another upcoming change includes finally letting Doug Ford write Joe Warmington's entire articles for him, as opposed to having the Sun columnist merely transcribe whatever the PC leader dictates during their nightly phone calls. "This has really freed me up to spend more time on Twitter complaining about Black Lives Matter", exclaimed an enthusiastic Warmington.
Batra went on to explain how, with the Ontario PCs offering to write all of the Sun's election coverage for free, the paper will use their resources on reporting that their readers care about, namely which cars are new and why the Leafs suck/ are the best.
Despite no longer being a member of the Ontario PC party, ousted leader Patrick Brown has offered to pitch in by personally selecting the newspaper's Sunshine Girls.