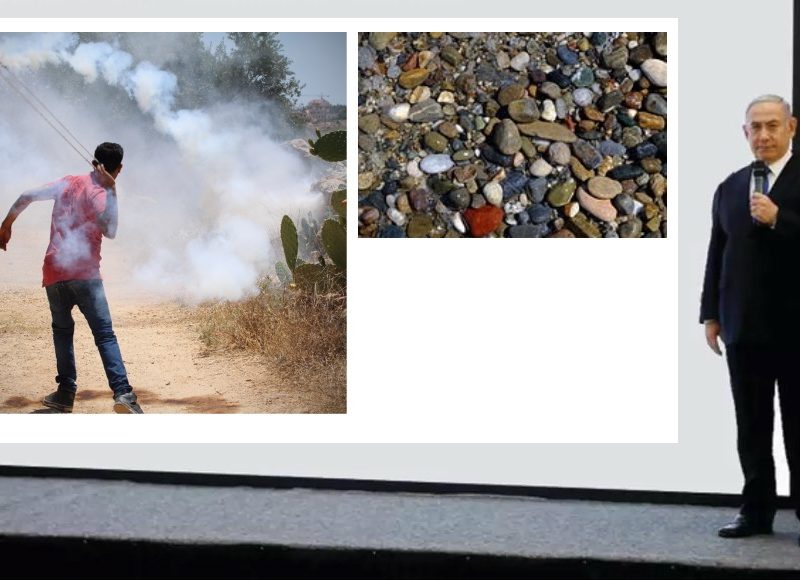 JERUSALEM – Israeli Prime Minister Benjamin Netanyahu has announced that he has definitive proof that Gaza protesters were attempting to acquire pebbles of mass destruction, which justified Israeli Defence Forces opening fire on them.
Netanyahu laid out his case in a powerpoint presentation detailing how activists, doctors, and children along the border were acquiring smooth, precision-guided rocks fired from long-ranged slings capable of hitting Israel's border fences at a range of 150 ft.
"Israel has the right to defend itself against this Hamas-orchestrated demonstration," explained the Israeli leader about the military action that left 60 protesters dead and 1,200 wounded. "We have proof that some of these pebbles came from a beach in Kish, Iran, which is a major pebble production centre."
The theatrical presentation emphasized the destructive consequences of these colourful, yet potentially harmful stones some of which contain quartz.
"One IDF soldier is recovering from a vicious bruise caused by a suspected pebble of mass destruction," added Netanyahu. "He will be given a medal for his bravery."
Israel's Defence Minister said he has not ruled out an airstrike on Gaza's pebbled beaches to limit the stockpile of these weapons.
Meanwhile, Israeli Ambassador Aviva Raz Shechter accused the UN's Human Rights Council of being bias against countries that commit war crimes.