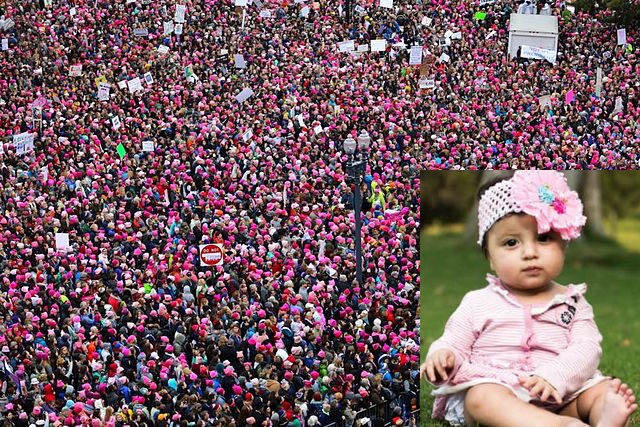 TORONTO – Thousands of angry women, badass non-binary people, and apologetic men took to the streets on Saturday for the second annual Women's March. People from all walks of life were in attendance, but the undisputed star of the protest was Reina Sudharsanan, a 21-pound infant and the world's best feminist.
A report released Monday by intersectional think tank Crenshaw has confirmed this obvious finding. According to Dr. Janet Wokoma, Crenshaw's Director of Public Affairs: "We have now definitively answered the key question of the women's movement: 'Which feminist is the one true feminist superior to all other feminists?'"
Wokoma suggested that Reina's work in anti-fascism was an important factor in her triumph, adding: "Most babies tend towards misogyny, viewing their mother as a milk-object or as only a source for hugs. But Reina rises above."
Nine-month-old Reina reportedly attended the march holding a sign reading: "fuck your white supremacist capitalist hetero-patriarchy" and wearing super cute little baby shoes with Rosie the Riveter's face on them.
An appropriately intersectional mixture of every ethnic group, Reina was carried into the march on the shoulders of one of her two moms, where she amazed the crowd with her howls of righteous feminist anger and sobs because she wanted to wear her green hat.
Sources report that Reina was evidently more woke than the rest of the protesters, despite the fact that she was two hours overdue for her nap.
According to Reina's grandma, her activism began at the age of three weeks, when she rebelled against hegemonic gender binarization by smearing her feces on a pink onesie and indicated her contempt for the ideological tyranny of white feminism by screaming at the top of her lungs for the entire duration of a Taylor Swift album.
When asked about her role in the protest, Reina reportedly gurgled "garhhhh". Rosemary Lewis, a 96-year-old former Black Panther at the march, translated this as: "We need to prioritize making more space for our trans sisters and sisters of all abilities, while recognizing that we live on stolen Indigenous land".
At press time, Reina was taking a nap after spitting up on a photo of Donald Trump.