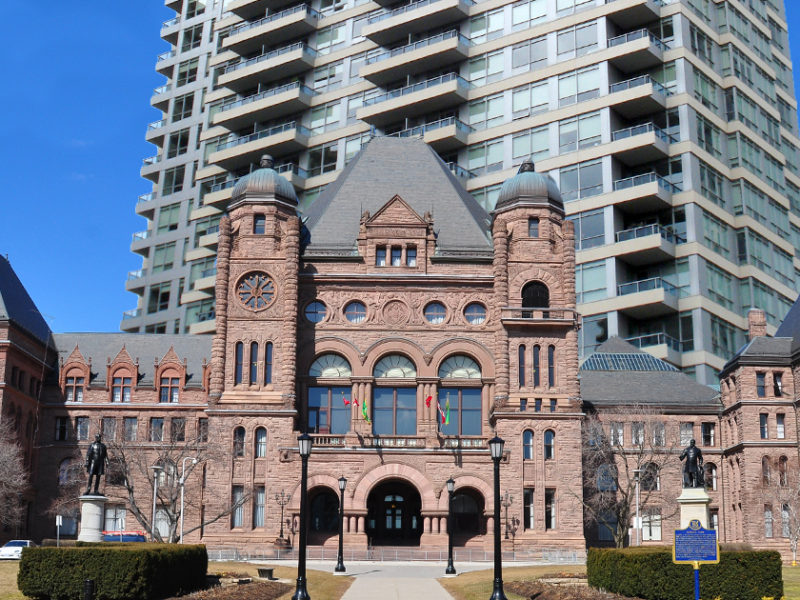 TORONTO – As part of its plan to open up provincial lands for the development of affordable housing, the Ontario government announced today that the 58 storey condominium they added to the province's legislative assembly is now on the market.
"Ontarians have told us that they are struggling to afford a place to live, and we've listened," said Premier Kathleen Wynne as she led reporters through one of the one bedroom units in the towering neo-modern legislature. "With the trendy, convenient condos of Dalton's Landing, the hard-working residents of this province can experience the eclectic urban lifestyle of London or New York right here at home for the reasonable rate of $700,000 for a one bedroom, or $1.1 million for a two-bedroom on a 25 year mortgage."
"Not only will this lower prices throughout the GTA by adding 457 units of prime centrally located housing stock," the premier continued, "but Ontarians can have pride in the fact that after all these years, their legislative assembly has finally pierced the sky. Just look at that view."
Housing minister Chris Ballard emphasized how the building came with its own subway station, and stated that having the MaRS Centre and the University of Toronto within easy walking distance would help cut the province's commute times and spur innovation. He also called the entertainment and nightlife in the neighbourhood "unbeatable," citing the Tim Hortons in the subway station and wing night at Einstein's, a nearby pub.
The official opposition, however, says the new condos brought in by the Liberals are "reckless", and castigated them for, "a complete lack of judgement."
"My buddy says the Legislative Assembly of Manitoba may be on the market soon, and it has way more space. We should flip it! It would be a bit of a commute, but we could make it work. Why aren't Kathleen Wynne and her Liberals getting in on this before the other provinces find out?"
Ontario NDP leader Andrea Horwath levelled her own criticism: "My Dad was handy and taught me a thing or two. I can tell, the build quality of these units is terrible. Feel that draft? And the walls are paper thin. Just because Ontarians want young families to afford homes doesn't mean they want to hear those young families being made."
At press time, Kathleen Wynne was too busy celebrating 4/20 to comment.
Image credit: 1