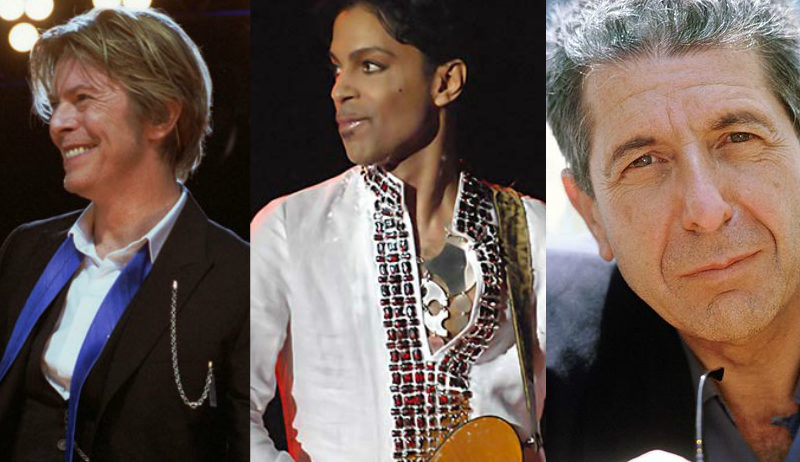 HEAVEN – Boasting a lineup that includes some of the greatest talent of the 20th and 21st centuries, the deceased music icons of 2016 debuted a new supergroup in the afterlife this week with reviews of their first concert ranging from 'a musical abomination' to 'surprisingly garbage.'
The 73-member group, all arranged by famed Beatles producer Sir George Martin, features every music industry legend that died in 2016, including progressive rock bassist Greg Lake, bluegrass legend Ralph Stanley on lead banjo, Jefferson Airplane's Paul Kanter and Eagles co-founder Glenn Frey sharing lead guitar duties, accordion king Buckwheat Zydeco, keyboardists Leon Russell and Keith Emerson just to name a few. Fronting the group is the septet of David Bowie, Prince, Sharon Jones, Merle Haggard, Leonard Cohen, Phife Dawg, and George Michael on co-lead vocals.
"It was a total clusterfuck," said late concert attendee Steve Johns, who died this summer after choking on a sandwich.
"A lot of these artists were my heroes growing up. So when I heard they were going to be jamming together here in Heaven, I felt bad for all the living people who wouldn't get to see it. That is, until I heard their music."
"I wonder why I thought it would work," said Cynthia Bingham, who died this year from pancreatic cancer. "Don't get me wrong, everybody in the group is amazing. But they were all kind of doing their own thing. And all at once. I honestly hated it. It made me want to die again."
Sources say the deceased group's failure stems from its untenable size and lack of leadership. Even the band's name is undecided, however it's rumoured the straightforward "2016 Dead Musicians" is the current frontrunner.
"When we started rehearsing in March, it was just Bowie, Frey, Maurice White, and a few others," said deceased crooner and band member Frank Sinatra, Jr.. "Definitely a weird mix, but still manageable."
"But then Prince showed up and no one knew who was in charge anymore," he added. "Pretty soon, everyone was so scared of ruffling feathers that no one stepped up to make any real decisions. By December, we were not only letting Debbie Reynolds and Alan Thicke join, we were giving them equal input."
When reached for comment, George Martin admitted the group's faults but expressed hope for future success.
"In retrospect, we should have tried to write a few songs instead of one 3 hour song with 29 separate instrumental solos and 137 different time signatures," said the late producer. "When musical geniuses work together, they clash. But the results can be outstanding when it works. Just look at the Beatles!"
"And keep in mind, the Beatles only had 4 musical geniuses. This group has, like, 37," he added. "What I'm saying is, once we figure out how the hell to write a song together, we'll be at least 8 times better than the Beatles."
At press time, recently passed sitcom dad and TV theme songwriter Alan Thicke was reportedly trying to rewrite Leonard Cohen's lyrics because they weren't "bouncy" enough.