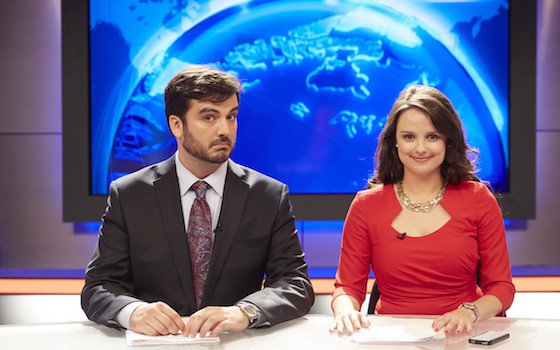 TORONTO – Local couple Tina and William were able to spend their evening watching a live recording of the new
Beaverton
TV show, the very important televised adaptation of the very important satirical news website
The Beaverton
.
"Oh man, that was amazing," said William. "I laughed, I cried, I even got to applaud when the sign told me to!"
"Plus they gave us a ton of free swag!" Added Tina.
The tapings, which will begin September 24 and run every Thursday evening until the end of October, are already being hailed by critics as the best live TV taping in Canada, beside The Marilyn Dennis Show of course.
At press time, check below for info about how to get tickets!
How to get your tickets.
Beaverton Live Studio Audience Tickets are FREE of charge. We here at The Beaverton LOVE you — our fans — and want you to be part of this exciting live experience.
Step 1: Pick the show(s) date(s) you would like to attend.
Tuesday, November 1st NOW BOOKING
Step 2 : E-mail us at : beavertonlive (at) gmail.com with the following information:
Name:
E-mail:
Phone #:
Date of taping you would like to attend:
Number of Tickets Requested:
Will you be using the Beaverton Shuttle? :
Once we receive your request, you will receive a confirmation e-mail with all the information you will need to attend the live taping. Please bring this with you to the check in table upon arriving to the taping between 6:15 PM and 6:45 PM.
LOCATION & DIRECTIONS
The live tapings will be held at Commercial Studios is located at 793 Pharmacy Avenue (Eglington & Pharmacy).
793 Pharmacy Ave, Toronto, ON M1L 3K2
– From the East exit 401 at Warden, right on Ellsmere and left on Pharmacy. 793 Pharmacy is on the East side of Pharmacy south of Eglinton.
– From the West exit 401 at Don Valley Parkway (DVP). Exit DVP at Eglinton and go East (left) Make a right on Pharmacy (south) 793 Pharmacy is on the East side of Pharmacy.
– From Downtown take the Gardiner Expressway and go north on the Don Valley Parkway. Exit DVP at Eglinton and go East (right) Make a right on Pharmacy (south) 793 Pharmacy is on the East side of Pharmacy.
PARKING & SHUTTLE INFORMATION
There is not much public parking availability in the area of the studio,  so…. the kind people of Beaverton have gone ahead and reserved a large parking area at the Eglinton Square Shopping Center, located at 1 Eglinton Sq Toronto ON, M1L 2K1.
NOTE: There will be visible Beaverton signage in the reserved area.
Our Beaverton Shuttle will be waiting to bring you to the main doors on the south side of the studio, where you will check in, be seated and prepare to have lots of laughs! The shuttle will also be waiting to take you back to your car after the taping.
NOTE: Studio Doors close at 6:55pm. Your pick-up time will be included in the confirmation you receive.

See you at the live show!
Freda Lynds
Audience Producer
The Beaverton 2016
April Meeks
Audience on site Supervisor
The Beaverton 2016
beavertonlive (at) gmail.com
RUSH TICKETS
Rush seats are not guaranteed, but may become available on the night of the taping, 30 minutes prior to the taping. Remember, these seats are not guaranteed and only become available should we have any remaining seats in the studio. Please check-in to the ticket desk between 6:15 PM and 6:45 PM to add your name to the Rush Seating List.