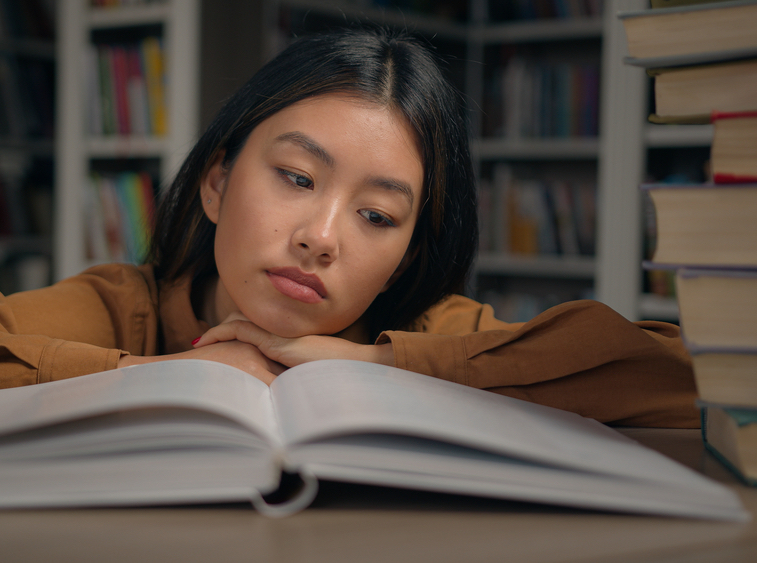 NATIONWIDE — Following a cyber attack that left the Indigo website inaccessible, book lovers across the country have been forced to turn to the many, many books they already own.
"I'm at such a loss for words," says frequent customer Kit Elliott, appearing via Zoom with both her computer and herself perched atop stacks of unread books. "I just organized them all by colour, author, and how smart they make me sound. What else am I supposed to do with them?"
Studies show that the dopamine hit from buying a sleek, sexy new book is comparable to a hit of crack cocaine or telling off your childhood bullies. Unfortunately, even with Plum Plus free shipping, the effect wears off by the time the book arrives, leaving the volume to gather dust while addicts like Elliott take to the Indigo website for another hit.
Faced with the horror of actually reading their own books, readers across the country have turned to variety of different hobbies, including reading the ingredients on the shampoo bottle, writing down ideas for their own books, and buying NFTs of pictures of books. Google searches for "things George R.R. Martin does instead of writing his damn book" have also spiked as readers search for inspiration.
In response to the attack, some book lovers have co-opted the hashtag #adoptdontshop, encouraging their fellow bookworms to shop at secondhand bookstores instead. "There are so many used books out there that need a good home," says influencer Dana Charles, forgetting that Indigo also sells sex toys now.
To combat the loss of online sales, Indigo has launched a new home version of Heather's Picks, in which customers pay Indigo CEO Heather Reisman to show up at their house and put a sticker on one of the books they already own so they know what to read next.
Upon reviewing her existing book collection with Reisman, Elliott discovered that she already owned quite an impressive library, including eighty-three different copies of Nineteen Eighty-Four, two of the only surviving copies of Shakespeare's First Folio, and a first edition of the Bible signed by Jesus himself.
"Who knew?" she said before deciding to just read Kindle smut on her phone.
At press time, nobody over the age of forty was available for comment, due to being unaware of the problem because they still call the store Chapters.