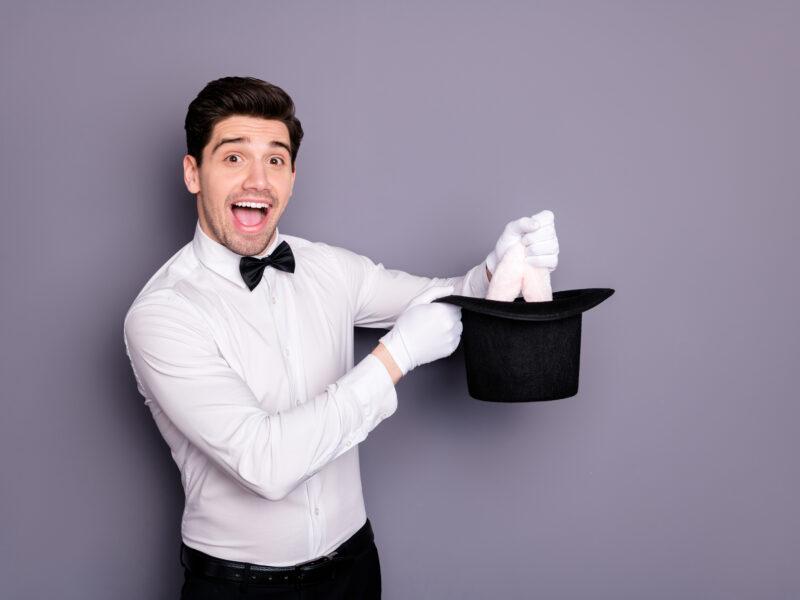 EDMONTON – Rookie magician Marty Merlin has shocked and amazed onlookers at Trevor White's ninth birthday party by removing most of a rabbit from his top hat.
"Behold, Peter the Third in all his fluffy… oh, jeez, not again," Merlin said, before hastily hiding the hat under his podium. "Uh, it appears Peter has been hit by a rogue sleeping spell! Don't approach him, lest you be hit too!"
Merlin then distracted the crowd with an incredible trick where he produced a quarter from his own pocket.
"I thought it was cool when Merlin emerged in a cloud of smoke from his mobile wizard's lair," Trevor said, in reference to the magician's 1996 Dodge Caravan. "But he smells a lot weirder than the magician at Brad's party."
Trevor was then summoned to the stage, where the magician swirled his cloak, waved his wand, and said in a mighty baritone, "And now, my young apprentice, if you think of a number, I will also think of a number!"
After his dazzling display of numerology, the magician promised a "special surprise" as he pulled a lengthy scarf out of his sleeve. He asked Trevor to give the scarf a final mighty tug, prompting a trio of dead doves to tumble out of his jacket and onto the birthday cake.
"I guess they didn't get enough, um, bird coffee," Merlin said, before throwing his cape over the doves and calling one of Trevor's friends up for a card trick.
"Is this card from the same deck as your card?" Merlin asked the little girl, who said "No," then looked under the cape, screamed, and ran away crying.
"This is the last time I lowball a magician," Trevor's mom told reporters. "Sure, I saved money upfront, but now I have to drive to the 'Magician's Menagerie' and hope they have a rabbit in stock so these kids can meet Peter the Fourth."
At press time, a visibly inebriated Marty Merlin was trying to reenergise the party by sawing the birthday boy in half.