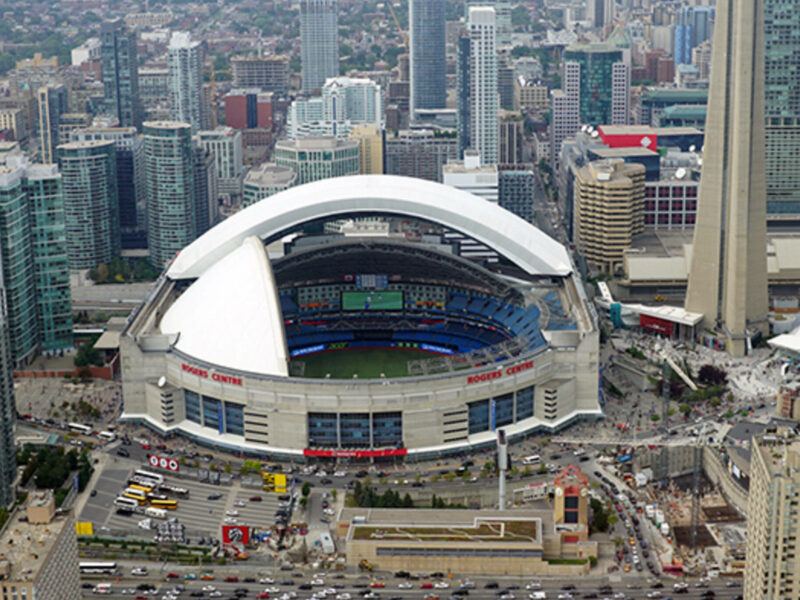 BLUE JAY WAY, TORONTO – In a misguided effort to impress someone, Sigma Chi president and Rogers Centre roof operator Andrew "Smitty-boy" Smith is claiming he can open the stadium roof with his teeth.
It is unclear who Smith thinks he is talking to, as his t-shirt that says "One BJ Is Better Than Nine Yanks" has scared off all women within a 90-foot radius.  
"I don't even get what he's trying to do," says jumbotron operator Sarah Wilson. "Is he just going to press the button with his teeth? Or is he planning to climb up to the roof to try to pull it open with his jaws? Either way, I wish he wouldn't."
Smith has a long and storied history of trying to open things with his teeth, including beer bottles, condom wrappers, and a high-interest savings account at Scotiabank. 
This behaviour has alienated Smith from those around him, including his ex-girlfriend Jane Anderson. Anderson explained, "I told him he needed to open up to me more. He said he could do it with his teeth."
Nearly everyone who works at Rogers Center is familiar with Smith and dental antics, including Blue Jays manager Charlie Montoyo.
"Opening Day was a nightmare," says Montoyo. "I don't think he even knows what Opening Day really means. He just kept saying he could open it with his teeth. Open what? The day?"
While Blue Jays players and coaches wish Smith would just close his damn mouth and open the damn roof, at least one high-ranking Rogers executive is pleased with his work. 
"We here at Rogers love Andrew's ability to find innovative solutions to simple problems," says Andrew's father, a high-ranking Rogers executive. "There will always be an open position at Rogers for Andrew and his teeth."
In order to get the roof open in time for the game, the Blue Jays are sending someone in to talk about how Shohei Ohtani deserved to win AL MVP over Vladimir Guerrero Jr. last season in hopes it will distract Smith long enough to let someone else operate the roof.