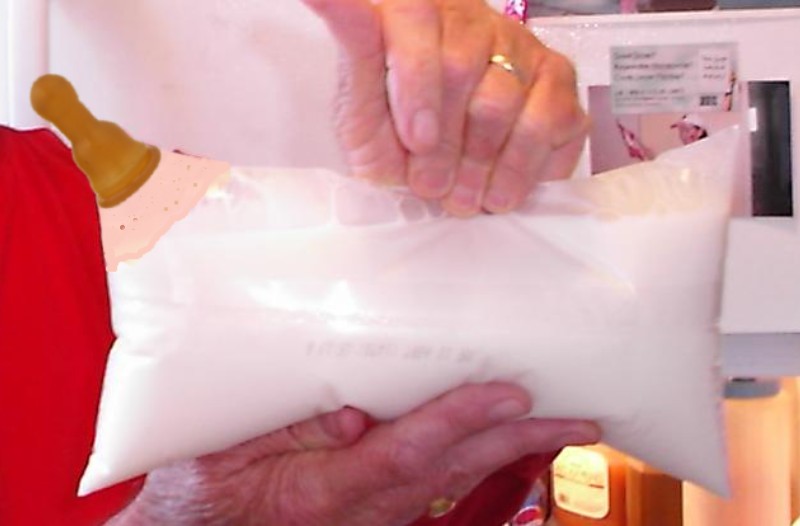 QUEBEC – After receiving thousands of complaints related to pouring issues, bagged milk distributor Saputo has begun attaching a nipple to milk bags for increased dispensing control.
The dairy giant has stepped up to save Canadians from chronic overflow and underflow problems. When it comes to pouring milk from a bag, it can often prove disastrous. If the hole is cut too big, a milk tsunami can easily result in breakfast bowl drownings. If cut too small, the coroner report will state you "literally waited to death" for the right amount of milk to come out. Hence, the need for a safer and more effective dispensing method.
A long-time Canadian favourite, milk bags have been celebrated for their cost savings and reduced carbon footprint to produce versus cartons or jugs. However, pouring milk from a bag feels so detached from nature, which is why Saputo has created a milk bag that allows consumers to "get back to the roots" of milking with the application of a silicon nipple.
"We've taken inspiration from the source," remarked Saputo manufacturing engineer Stu Davies. "With the introduction of a bag teat, the new design allows greater control and a more visceral experience. Interestingly, the vast majority of sales are from adult men. In fact, we've discovered a new market of men with re-birth fetishes."
Tapping into the paraphilic infantilism that's been crawling across the nation, the distributor has created a wide range of bag titties to satisfy the fussiest man-baby in your life. Currently, there are 12 shades in four different shapes available. "We even offer nipples with fake hair for added realism, and piercings for that rebellious youth that still resides within," said Boyd Jenkins, head of Saputo marketing.
"As an inclusive company, we've expanded our product to meet the needs of women. Last week we launched our female-focused milk bags which boast Swarovski crystal lined nipples and collectable charms with inspirational quotes that attach to the bag's areola."