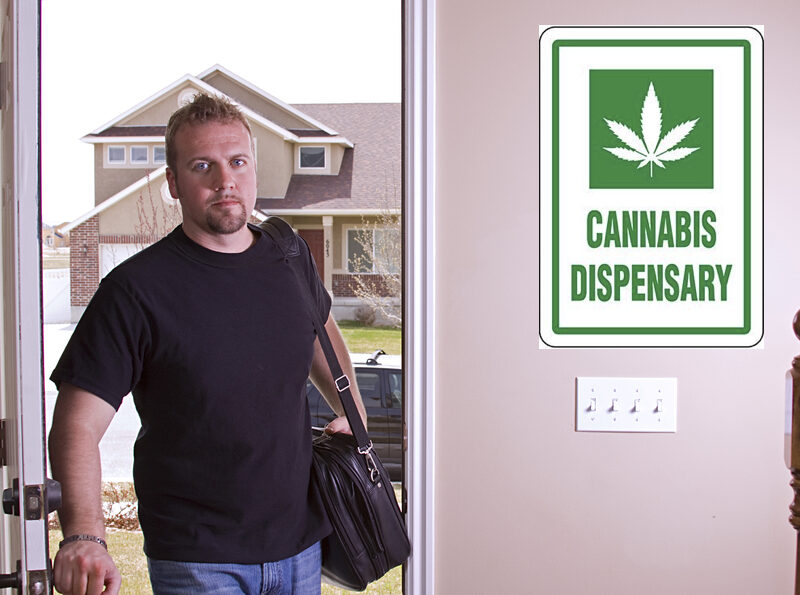 TORONTO, ON- A Toronto resident returned home today to a sure sign that he forgot to lock his front door; a retail weed store run out of his apartment.
"When I saw all the kids lined up in the hallway, I started wondering if I remembered to lock up before I went to the mailbox. Then I saw the cartoon mural of Richard Nixon smoking a blunt with Snoopy painted on the door and I knew," said impromptu landlord Devon Carlton, the new property owner of Carlton's Cannabis and Gifts.
"This is worse than the time I left the window open when I lived in Montreal and came home to a poutinerie. Or when I left the door open at my house in Saskatoon and came home to an empty field."
Ever since legalization, stores specializing in selling marijuana and paraphernalia have slowly been infesting virtually every part of the city. Having taken over every retail space, it wasn't long before the dispensaries began applying the pop-up strategy to any space large enough, including homes, places of worship, and large vehicles in scrapyards.
"It's sort of an unspoken industry rule that if it has four walls and no one living in it then it's fair game for a pot shop," said Marla Teller, the general manager of Carlton's Cannabis and Gifts since they moved from their original location in a public washroom.
"I hope we can work something out with the new landlord because this location is great! The only competition is the bigger weed shop on the ground floor. Aside from the fact customers have to get past security and take an elevator to get in, it's perfect!"
Not long after coming home, Carlton placed a call to the city's Invasive Businesses Unit. A team has been dispatched to safely and possibly humanely extract all merchandise and staff and relocate them to their new home in a suburban strip mall.
Experts advise that homeowners take extra precautions when leaving for any stretch of time to prevent dispensaries from appearing in their residences. Ways to protect your home from becoming a weed shop include extra security measures, putting up a Conservative election sign, and leaving sad music playing so that any would-be proprietors get their buzzes harshed.
The Invasive Businesses Unit would like to remind readers with basements to make routine checks on them to make sure a microbrewery hasn't opened up down there, especially if you live in the Queen Street area.