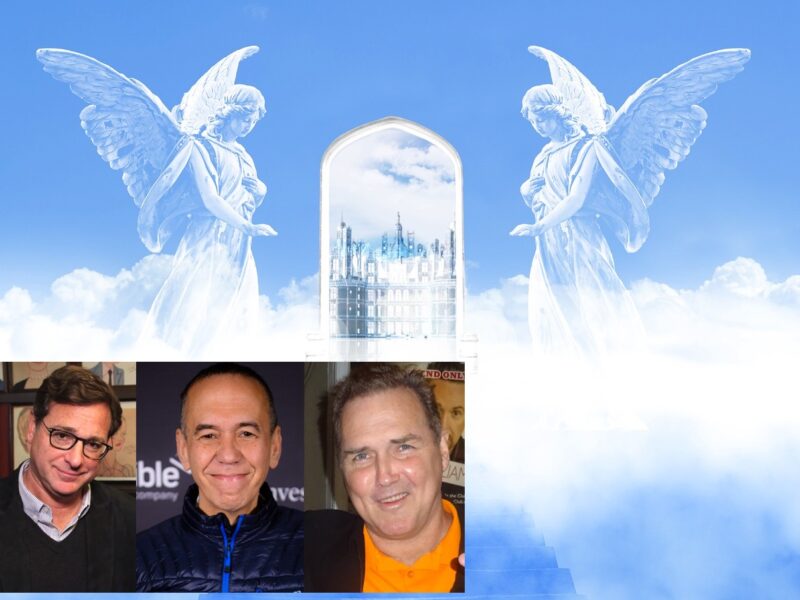 HEAVEN – With news breaking that Gilbert Gottfried has passed away, Heaven has announced the beloved comedian has joined his departed friends Bob Saget and Norm MacDonald in the Comedy Central Roast of God.
"Oh my God! Or should I say 'Oh you, God'!" yelled Gottfried from behind the roast master's dias, wasting no time since his untimely passing before launching into a series of devastating zingers directed at The Lord Almighty himself.
The veteran comedian's shrilly nasal voice pierced through the Everlasting Kingdom of Heaven, as he delivered divine burn after divine burn. "They say you created the world in 6 days, and then rested on the 7th! And THAT'S when Florida happened."
"Seriously, one week of You Damn work, and then it's cruise control for the next millennia of wars, famines, and plagues! I saw more hands-on leadership in Ronald Regean's 2nd term! And speaking of hands on, let's talk about Catholic Priests!" shrieked Gottfried, eliciting a series of "Ooohs" from the assembled host of heavenly angels and deceased celebrities.
"I can't believe he went there," said the ethereal form of Farah Fawcett to her tablemates Benjamin Franklin, Prince, and the archangel Saraqael.
The newly-incorporeal Gottfried was joined on the roast stage by his formerly living colleague, notoriously-filthy comic Bob Saget. "When we were alive, Gilbert and I used to tell this really famous joke called 'The Artistocrats', all about this crazy family who are fucking and sucking and just going to town on each other," Saget explained with his trademark sitcom dad smile. "But now that we're dead I can finally admit that we actually stole that joke… from the Old Testament, that one was all you guys! You sick bunch of motherfuckers – I see you back there, Abraham!"
Next on the bill was Gottfried's fellow SNL alum Norm MacDonald, who trained his unique brand of anti-humour on the Lord of Hosts.
"So I'm walking down this sandy beach, right? And our good friend God is walking with me, y'know, like ya do. And I look back and I see just one set of footprints. One. And I asked God, 'Wait a second, who made that one set of footprints?' And God, he turns to me and says 'You guessed it… Frank Stallone," deadpanned MacDonald, as the nearby ghost of Orson Welles laughed uproariously.
Piped in via séance was still-living comedian and legally-mandated roast mainstay Jeff Ross. "Wow, I can't believe I'm seeing all these dead celebrities. We've got John Wayne, David Bowie, and Chevy Chase's career!"
Following a noticeably loose set from a drunk-on-ambrosia Dean Martin, Jehovah himself stepped to the dais to respond in kind.
"They say my voice is so impossibly thunderous that it could split the eardrums and shatter the mind of any mortal that hears it… and I'm still not as loud as Gilbert!" The Heavenly Father joked as Gottfried laughed amongst his longtime friends.
Back on the Earthly Realm, the Friar's Club has announced they will observe a moment of ear-splitting noise in Gottfried's memory.