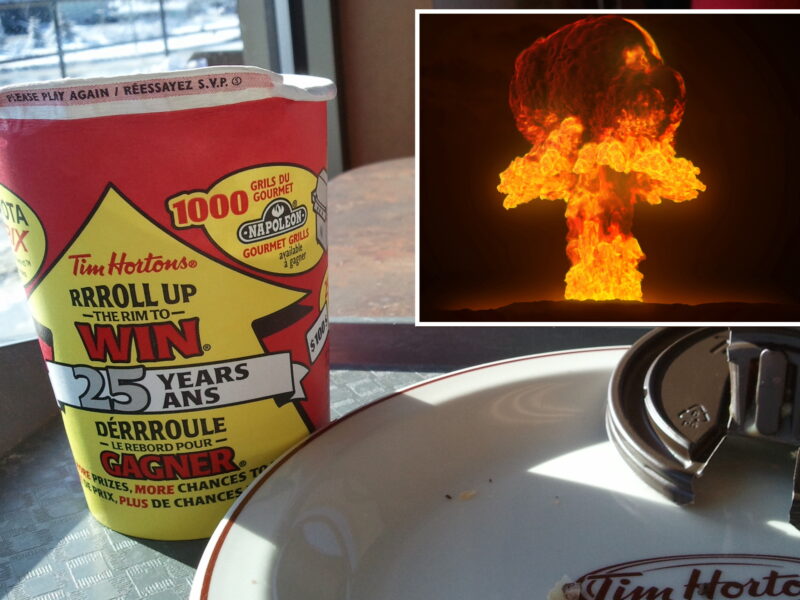 VANCOUVER, BC – Canadians are in for a treat this week with the return of two beloved national pastimes: Tim Horton's Roll up the Rim contest – and also worrying about the devastating outcome of a looming nuclear holocaust.
"It's about nostalgia", said resident Kristin Green, "those of us who were alive during the height of the Cold War know what it's like to spend nights dreading a nuclear crisis, and now that Putin has ordered Russia's nuclear forces to stay on 'special alert' – oh? This question is about Roll up the Rim? Yeah, I guess that's back, too."
"Starting March 7th 2022, Canadians once again have the opportunity to win big!" said Tim Horton's spokesperson Linda McNeese, "with every purchase of an eligible item, customers increase their odds of winning a prize while Putin's war crimes increase their odds of dying in a doomsday event. During Roll up the Rim season, you never know what you're going to get!".
"The contest runs for a limited time only", McNeese continued, "ending either on April 3rd 2022 or when Putin finally pushes that big, red, button".
No tradition comes without updates. While previous generations lived in constant fear of a surprise nuclear attack, today's Canadians use their smartphones to live in constant fear in real time – and also to earn bonus rolls on the Tim Horton's Mobile App.
Some Canadians, however, feel as though the revamped traditions don't live up to the legacy of the originals. "When I was a kid, I got to stress about imminent death while tearing my gums open on the waxy rim of a double double", stated local man Brad Kent, "but now I have to scan some lame code while Putin gets his honorary blackbelt revoked?"
"I know what everyone's going for, but it's just not the same".
Still, the lukewarm response from consumers hasn't stopped Tim Hortons from rolling out an array of topical prizes. This year's top grabs are a refurbished bomb shelter, iodine to treat radiation poisoning, and a stale honey cruller left over from the last Cold War because the most important Canadian tradition is being let down by mediocre Tim's products.
McNeese, however, made it clear that Tim Hortons will never revamp their divisive lasagna casserole because "some things should stay dead".
Roll up the Rim launches during what is certainly a difficult time for everyone, but Canadians can still hold onto the hope that their children will never have an experience like this because climate change will get them first.