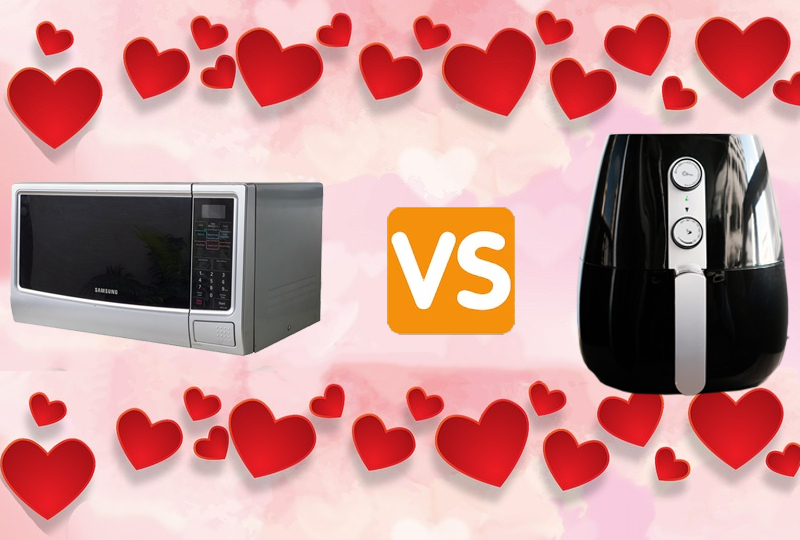 Listen, we all know the struggle. You've had a long day, and all you want is just to reheat something hot to fill you up inside for tonight. It used to be simple! Pop it in the microwave and accept your fate. 
But what's all this new hype around air fryers? Could they really be better suited for the task? Well wonder no more, because we at Beaverton Labs have done the work to find out whether a microwave or an air fryer is better at reheating your frigid sex toys!
We tested three different sex toys in a microwave and an air fryer to determine which is better bringing your cum machine to the optimal temperature!
DILDO
Air Fryer:
It certainly takes longer! It took over 10 minutes for our dildo to get toasty warm, and that's not including preheating time. But after the wait we found that the heat was much more encompassing from its flared base to fist-sized head, and much more pleasing!
Pro-tip: Choose the right oil! Apparently sensual oils just clog up the machine, so we recommend olive oil, extra virgin if you want to be weird about it.
Microwave:
After 30 seconds in the ol' spinner, our dragon-sized cock was barely warm! Maybe it was the gargantuan size of it, but we popped it back in and it only took about another minute or so for it to get to the temperature that was just right for our orifices. Once it did we were screaming Smaug's name!
Pro-tip: Remember metal doesn't go in the microwave. Best to look for another heating method if you'd like to fantasize about fucking Bender from Futurama.
VIBRATING EGG
Air Fryer:
The air fryer worked almost too well for this task! We couldn't seem to get the right temperature, and no matter what combination of time and heat we tried, it seemed to be too hot or too cold! A scalding egg? No thank you! A cold egg? What's the point?!
Pro-tip: Skip this one altogether, you're better off with the tried and true method of hard-boiling.
Microwave:
You can't do better than ol' reliable (the microwave, not the geyser-like climax this toy gives you!) 45 seconds was both the perfect amount of time for the egg to be in the microwave, and for it to be inside you before you finish! A little soggy though.
Pro-tip: Reheat some scrambled eggs at the same time for a high protein post-orgasm refueling! Two eggs, one stone!
FLESHLIGHT
Air-fryer:
We had mastered the machine by now, so we preheated and oiled up long before uncontrollable lust and horniness made the penis cage painful for our test subjects. But for optimal results, we turned the fleshlight inside and out halfway.
Pro-tip: Add butter to the fleshlight before heating. Cold butter is no bueno for a hot night . 
Microwave:
The smell of burning plastic certainly isn't very arousing (unless you're into that!) Make sure you use a low power setting so as not to ruin your favourite fuck hole! Beyond that, the heating of the microwave made it more moist and damp than we would have liked. We'd prefer a more natural wetness!
Pro-tip: Take it from us, empty it out between uses.