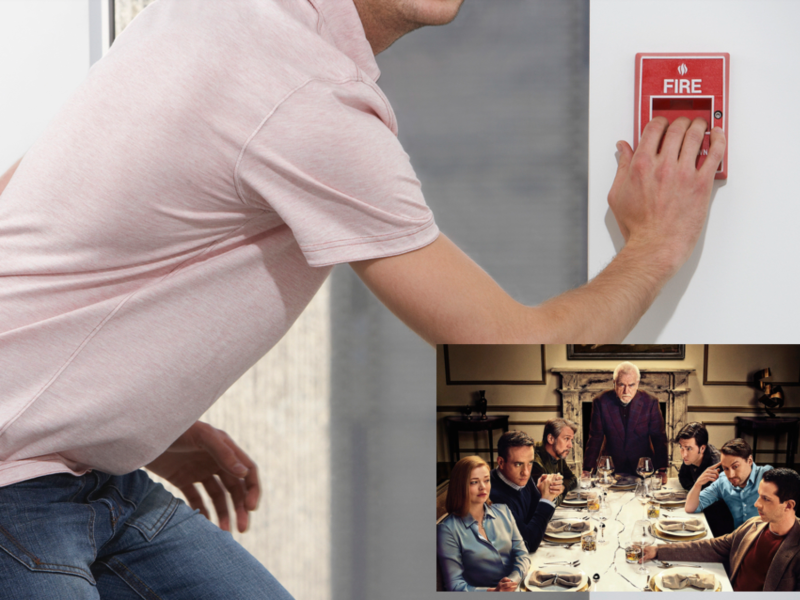 VICTORIA, BC – During a recent lunch at Burke's Cafe, local paralegal Marc Antwern felt he had no choice but to pull a fire alarm to avoid his friends discovering that he does not like HBO's acclaimed prestige satirical comedy series Succession.
"We were all catching up about what we'd been doing during lockdown," exclaimed Antwern, moments after fleeing into the street with his fellow restaurant patrons. "But as soon as Ashley asked 'so, what's everyone been watching', I knew it was only a matter of time before my secret was revealed. The season finale was over a month ago! I thought I was in the clear!"
"Frankly, I should even be speaking this openly about it," Antwern added before throwing his jacket over his head and dashing down a nearby alley.
The normally-avid TV fan insists that he enjoys most of the same watercooler shows as the rest of his social circle. "Mare of Easttown, Yellowjackets, White Lotus – I watch all of the TV shows NPR tells me I should."
Antwern elaborated on why he doesn't enjoy HBO's uniquely biting dramedic critical darling, "Is it a crime to think that a show about a hateful dysfunctional family is a bit one note… wait, you're not quoting me on this, are you?"
Back at the restaurant, Antwern's friends remain puzzled at his hasty exit. "I mean, we were all talking about how Succession is the best show on television at the moment and how no other series really seems worth comparing to it, when that fire alarm mysteriously got pulled just as Marc was about to add his own praise," recounted Ahmed Khan, friend of Marc's and noted Succession enthusiast.
"But now that I think about it, Marc didn't have anything to add when we were discussing our favourite times Roman used the word "fuckface"… you don't suppose that means he…" Khan trailed off before growing visibly concerned for his friend.
Tim Brookson, another friend and fan of HBO's explosively challenging savage deconstruction of the lives of the wealthy added, "Maybe Marc doesn't like Succession because he has COVID – isn't one of the symptoms a loss of taste?
Brookson added, "Or maybe he's just depressed, like Kendall!"
Meanwhile, Jesse Walton, a firefighter who responded to the fire alarm, had this to say, "We've not seen this many false alarms since the Game of Thrones heyday. But next time, please fake a heart attack and waste the paramedics' time."
Reached for further comment, Antwern responded, "Please stop hounding me! I never said that Succession is 'overrated' and 'just Dynasty with swears'! Leave me in peace!"
In a related story Gina Caruthers, 32, has reportedly called in a bomb threat to her friend's cocktail party before anyone discovers that she described the Netflix shows of Mike Flanagan as "kinda dull".