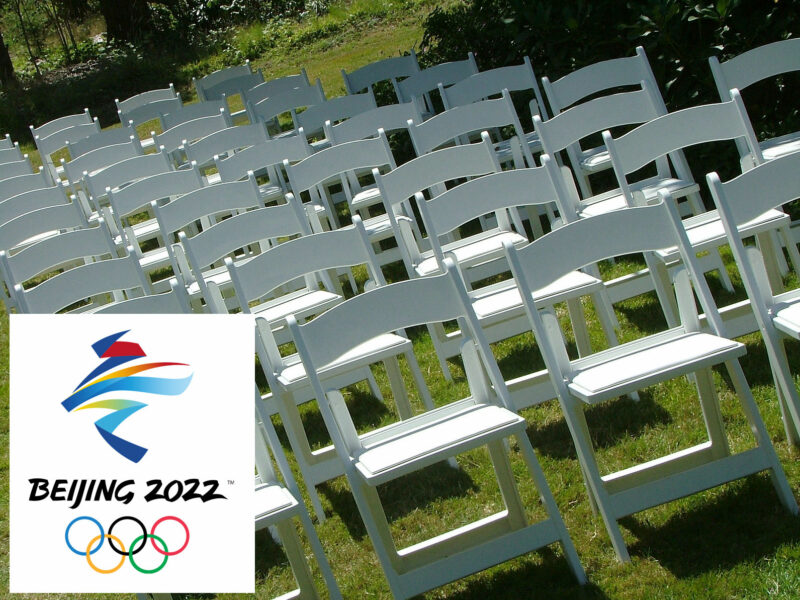 BEIJING – Officials from Beijing and the International Olympic Committee (IOC) confirmed this week that the 2022 Winter Olympics won't be cancelled amidst rising COVID cases, as they have already put down the deposit for the rental chairs.
"It was a 50% deposit, so that kinda made our decision for us," said Beijing Mayor Chen Jining. "We didn't know if we were going to need to rent chairs at first – we did an inventory, and with the good chairs, the okay chairs, and the old folding chairs, we only had like 200. So we needed to rent a lot."
Officials from the IOC are aware fewer dignitaries and audience members may show up than most years; IOC President Thomas Bach was heard explaining that if there are some no-shows, the ushers could just "rope off a couple rows at the back" and "encourage people to sit up front" so it looks full on TV.
"We must remain politically neutral on the Omicron variant – that's the IOC way," explained Bach in a prepared statement. "Plus, I couldn't cancel on Bernie Schwartzmann's Event Rentals. He's been losing so much business due to the pandemic, he was really excited to get this contract."
As more Chinese cities announced lockdowns this week, there has been mounting pressure for Beijing to cancel, as well as an increasing number of people who completely forgot the Games were happening even though they clicked "Interested" on the Facebook invite. Beijing's planning committee stated cancelling would be irresponsible as ice has already been ordered for the speed skating events and catering has three thousand party-sized shrimp rings slow-thawing in the hockey rink.
"Sure, Omicron is supposed to attack your organs, but we already bought the pop for the closing ceremony pizza party," said one representative of the committee. "The pop was on sale because the labels were printed crooked, so we can't return it."
"Plus, our athletes should be able to withstand COVID – we've had them develop their lung capacities by blowing up 5 million 'Beijing 2022' balloons," he added.
When asked if he will prevent Canadian athletes from attending the Games for their safety, Prime Minister Trudeau said he would extend the diplomatic boycott over China's human rights violations to protest this issue as well: "That should just about cover everything, I think."