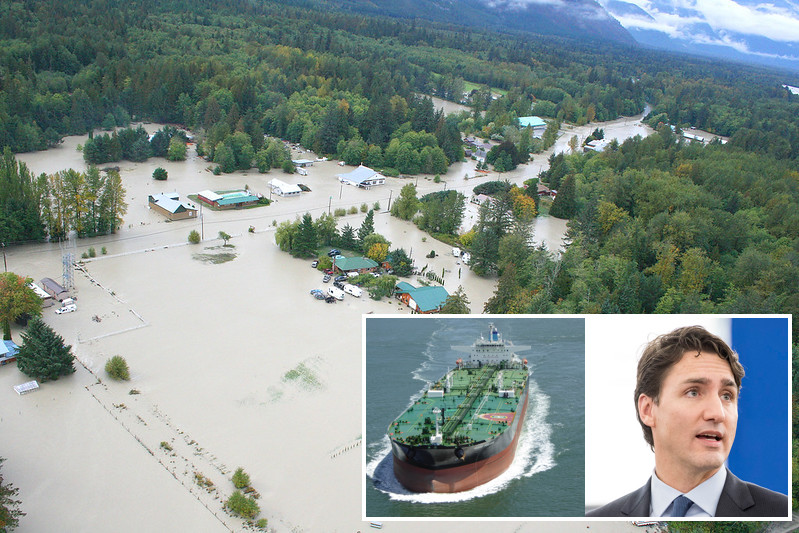 OTTAWA – With large parts of British Columbia still underwater due to climate change-related rainfall, the Prime Minister's Office has offered condolences and also lowkey asked whether oil tankers could be sailed through the flooded communities.
"This is a terrible climate tragedy, and we will do everything we can to help the British Columbians affected," explained Prime Minister Trudeau, "but also, if overseas oil could be shipped right inland through the Fraser Valley, the profit margins from that could be pretty amazing."
"Just saying," added Trudeau, before resuming his concerned expression.
With flood waters stretching several miles inland, many oil industry observers are also wondering whether this humanitarian crisis could be turned into some kind of opportunity.
"Look, we get it, climate change is bad, yadda yadda," said Hank Markson, spokesman for the Canadian Association of Petroleum Producers. "But as long as we're halfway across the river, or in this case the Fraser Valley, why not just keep going? I could have billions of crude oil sailing to Indonesia straight out of Chilliwack, tonight. Or why not think bigger, and maybe build a floating pipeline?"
"Can't protest a pipeline while you're underwater," Markson noted while winking.
While all observers agree that the ecological damage in British Columbia is due to man-made climate change, some are questioning whether it didn't go far enough.
"The good people of Alberta are ready to help the flood victims of British Columbia," said Alberta Premier Jason Kenney during an address. "Or, and hear me out on this, we do even more climate change and flood everything all the way up to the BC/Alberta border, opening up new oil shipping lanes! It's win/win, in that Alberta will win twice and BC could possibly win an unrelated thing."
At press time residents of rural British Columbia are less concerned about possible oil tankers and more worried about currently-advancing pirate schooners.