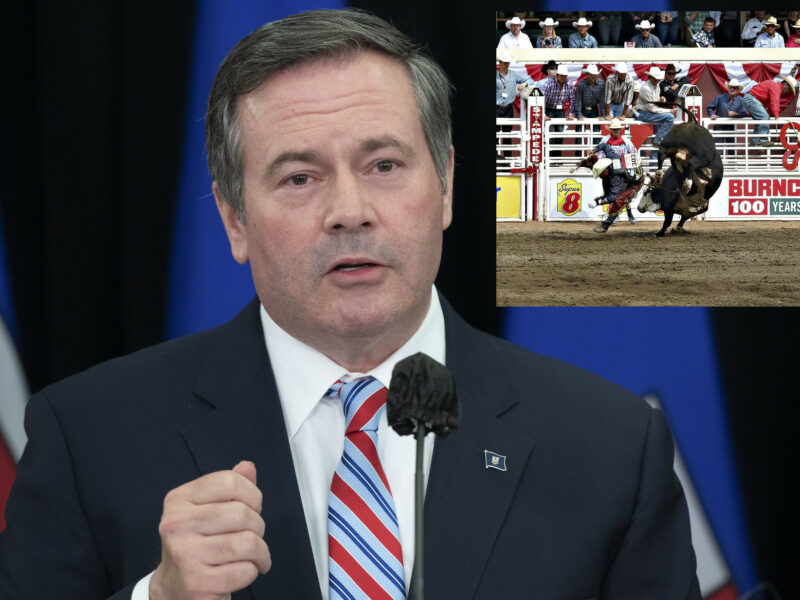 EDMONTON – Following the announcement of strict new measures to combat the out of control spread of COVID-19, Premier Jason Kenney announced he will make it up to Albertans by holding a surprise, fully un-masked Stampede festival next week.
Referring to his decision to lift many pandemic restrictions this summer, Kenney remarked, "It is now clear that we were wrong, and for that I apologize," followed immediately by "and also everyone is invited to our totally-indoor Fall Stampede, complete with extra kissing booths and fun activities for your unvaccinated kids!"
With Alberta declaring a state of public health emergency in light of drastically rising COVID case rates, Kenney emphasized the importance of his apology Stampede. "The doctors tell me we may run out of intensive care beds within the next 10 days, which is all the more reason to keep all Albertans away from the hospitals and enjoying themselves as they sit in packed stands screaming for some of the finest rodeo this side of the ICU."
Kenney added, "The two most important things Albertans can do right now is protect each other, and also attend this hastily-planned Stampede so they stop being mad at me."
The premier also assured Albertans that his apology Stampede would be fully compliant with the province's newly-announced "restrictions exemption program", which he insisted "is definitely not a vaccine passport".
"We're not going to make the same mistakes we made earlier this year," Kenney insisted. "At my apology Stampede we'll be keeping the vaccinated and non-vaccinated seating separate, just like how restaurants have smoking and non-smoking sections right next to each other."
"Still, just because vaccinated and non-vaccinated Albertans aren't sitting together, that doesn't mean they can't share a plate of fine Alberta ribs," Kenney added.
At press time PC leader Erin O'Toole was explaining to his campaign press corp that "Whatever Jason Kenney is currently doing is definitely the best COVID response in all of Canada."